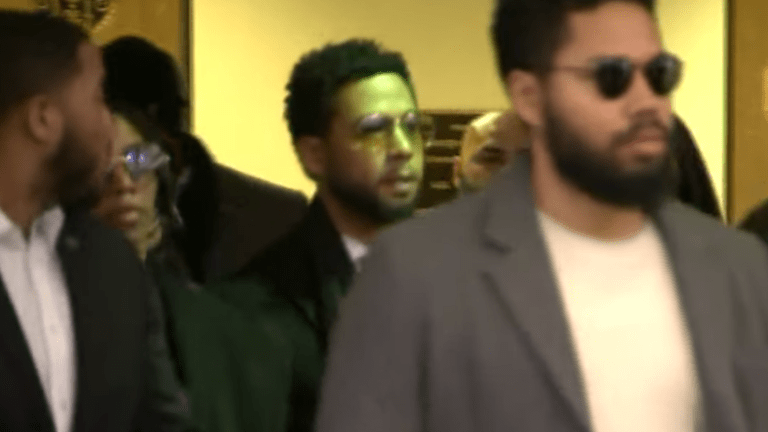 Jussie Smollett breaks social media to post coronavirus message
Jussie Smollett has ended his hiatus from social media to post a video message addressing the current coronavirus pandemic.
"Hope y'all are staying safe," he wrote. "Spread love and kindness... not Rona," he wrote alongside a video of him singing a snippet of Stevie Wonder's classic hit "A Place in the Sun" while playing the keyboard.
Last month, Smollett pleaded not guilty to renewed charges accusing him of staging a homophobic attack against himself last January in Chicago.
During his court appearance, his attorney, Tina Glandian, entered the not guilty pleas on his behalf to six counts of felony disorderly conduct.
Smollett previously pleaded not guilty to 16 counts of the charge last year, just weeks before the Cook County State's Attorney Kim Foxx's office abruptly announced it was dismissing the case.
Special prosecutor Dan Webb announced the new charges earlier this month during a news conference.
"This indictment raises serious questions about the integrity of the investigation that led to the renewed charges against Mr. Smollett, not the least of which is the use of the same CPD detectives who were part of the original investigation into the attack on Mr. Smollett to conduct the current investigation, despite Mr. Smollett's pending civil claims against the City of Chicago and CPD officers for malicious prosecution. And one of the two witnesses who testified before the grand jury is the very same detective Mr. Smollett is currently suing for his role in the initial prosecution of him," Glandian said in a statement at the time.
The statement continued: "After more than five months of investigation, the Office of the Special Prosecutor has not found any evidence of wrongdoing whatsoever related to the dismissal of the charges against Mr. Smollett. Rather, the charges were appropriately dismissed the first time because they were not supported by the evidence. The attempt to re-prosecute Mr. Smollett one year later on the eve of the Cook County State's Attorney election is clearly all about politics, not justice."