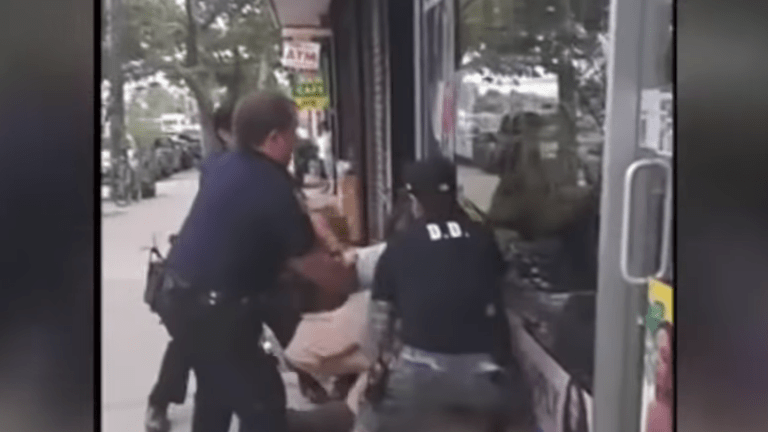 Judge says Police Officer Lied about Chokehold which Killed Eric Garner
A New York judge has alleged that the officer who was charged with the killing of Eric Garner, lied about the fatal chokehold he used during the incident.
The judge had previously recommended Officer Daniel Pantaleo be fired for putting Eric Garner in a fatal chokehold says that the officer's recount of the incident was "untruthful," according to the New York Times.
Judge Rosemarie Maldonado also called Pantaleo's version of the incident was "untruthful" and "disingenuous" and that other officers on the scene were "unhelpful or unreliable."
Officer Pantaleo's "use of a chokehold," she wrote, "fell so far short of objective reasonableness that this tribunal found it to be reckless — a gross deviation from the standard of conduct established for a New York City police officer."
Maldonado recommended that he be fired but, as of now, Pantaleo is still on the payroll as NYPD Commissioner James O'Neill decides on how to move forward.
Garner's family continues to fight for justice:
"My family and I have been fighting for five long years for justice and accountability for Eric's murder – and Mayor de Blasio and the NYPD have put up roadblocks and delays every step of the way," Garner's mother, Gwen Carr, said in a statement released earlier this month. 
"It brings me some relief to learn that Judge Maldonado has recommended that Pantaleo be fired – but the recommendation is long overdue, I'm still not allowed to see Maldonado's report and we still have a ways to go before there is true accountability for Eric's murder. It's past time for Mayor Bill de Blasio and the NYPD to end their obstruction, stop spreading misleading talking points and finally take action for my son."