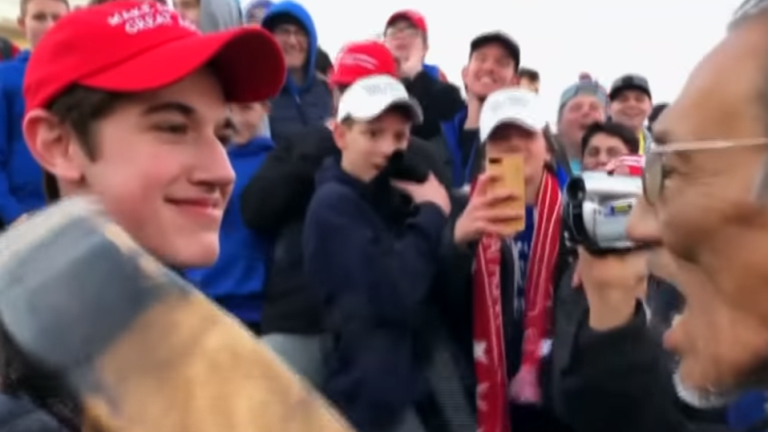 Judge Dismisses MAGA Teen's $250 Million Lawsuit Against Washington Post
Nicholas Sandmann, the teenager who went viral after his now-infamous showdown with a Native American activist, has had his $250 million lawsuit thrown out by a judge.
According to court documents obtained by CBS, Judge William O. Bertelsman ruled that seven Washington Post articles and three tweets about Sandmann were protected by the First Amendment and deemed opinion. 
In the viral video, Sandmann was seen wearing a Make America Great Again" hat while smirking at the 64-year-old Nathan Philips as he beat a drum during the Indigenous People's rally. 
At the time, Sandmann told NBC News he doesn't feel like he was disrespectful to tribal elder Phillips at the Lincoln Memorial, where the March for Life and the Indigenous Peoples March intersected. 
"I respect him, I would like to talk to him," Sandmann said in an interview. "As far as standing there, I had every right to do so." He added, "I mean, in hindsight, I wish we could've walked away and avoided the whole thing."
The Washington Post is happy with the outcome:
"From our first story on this incident to our last, we sought to report fairly and accurately the facts that could be established from available evidence, the perspectives of all of the participants, and the comments of the responsible church and school officials," Washington Post director of communications Shani George said in a statement. "We are pleased that the case has been dismissed."
Sandmann vows to appeal the decision:
"I believe fighting for justice for my son and family is of vital national importance," his father Ted Sandmann said in a statement. "If what was done to Nicholas is not legally actionable, then no one is safe."