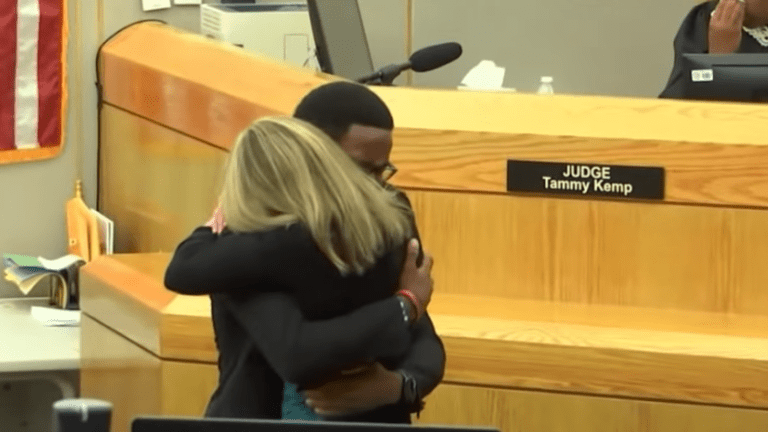 Judge dismisses Botham Jean's family lawsuit against Dallas over Amber Guyger shooting
A federal judge has ruled the city of Dallas is not liable the fatal of unarmed Black man, Botham Jean, who was gunned down in his own apartment last year by off duty cop, Amber Guyger
District Judge Barbara Lynn dismissed the city from a civil lawsuit that the family of Jean brought after his tragic murder. This means that Guyger is now solely on the hook for the killing. This also means that any settlement paid out to the family will likely not be very much.
The suit argues that Guyger, 31m used excessive force and that better police training could have prevented Jean's death. It makes a large financial settlement unlikely.
Guyger was found guilty of murder for Jean's death and sentenced to ten years in prison in October. She could be out in less than half that time.
The family's lawsuit claimed better training on the part of the Dallas Police Department saved Jean's life. The suit also charges the department of adopting a protocol of "shoot first and ask questions later," reported the Dallas Morning News.
"Essentially, Officer Guyger was ill-trained, and as a result, defaulted to the defective DPD policy: to use deadly force even when there existed no immediate threat of harm to themselves or others," the lawsuit stated.
Attorneys for the family of Botham Jean have since filed an appeal saying they still believe the City of Dallas should be held responsible for the death of Botham Jean.
"To get this news the day after Christmas was very difficult for the family," said Jean attorney Daryl Washington said per NBC. "They know we have a fight ahead of us. And they're just prepared to do whatever it takes to get some type of justice for Botham and their family."