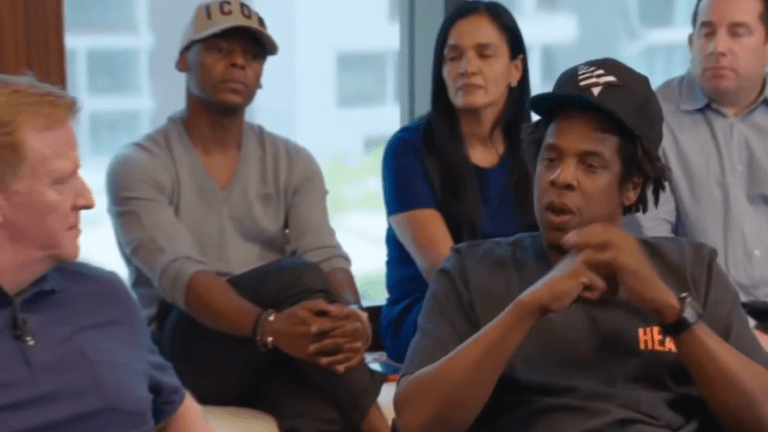 Jay-Z Discusses New NFL Partnership: 'I Think We've Moved Past Kneeling'
Jay-Z talked candidly about his new partnership with the NFL, addressing the backlash from some who feel that his new deal is a betrayal of Colin Kaepernick.
"I think we've moved past kneeling, and I think it's time to go into actionable items," he said at his headquarters in New York on Wednesday when asked whether he would stand or kneel.
"No, I don't want people to stop protesting at all. Kneeling — I know we're stuck on it because it's a real thing — but kneeling is a form of protest. I support protest across the board. We need to bring light to the issue. I think everyone knows what the issue is — we're done with that," he said. "We all know the issue now. OK, next. What are we moving [on to] next? ... And I'm not minimizing that part of it, because that has to happen, that's a necessary part of the process. But now that we all know what's going on, what are we going to do? How are we going to stop it? Because the kneeling was not about a job, it was about injustice," he added while seated next to  NFL commissioner Roger Goodell.
He also addressed the issue of Colin Kaepernick directly. Kaepernick was blackballed from the NFL after he took a knee in protest of police brutality and social injustice.
"We forget that Colin's whole thing was to bring attention to social injustice. In that case, this is a success. This is the next phase," the entertainment mogul said. "There [are] two parts of protesting. You go outside and you protest, and then the company or the individual says, 'I hear you. What do we do next?'
"For me it's like action, [an] actionable item, what are we gonna do with it? Everyone heard, we hear what you're saying, and everybody knows I agree with what you're saying [in Kaepernick's underlying message]. So what are we gonna do? You know what I'm saying? [Help] millions and millions of people, or we get stuck on Colin not having a job."
Despite Jay's best effort, many feel that he has put capitalism before the well-being of his community.