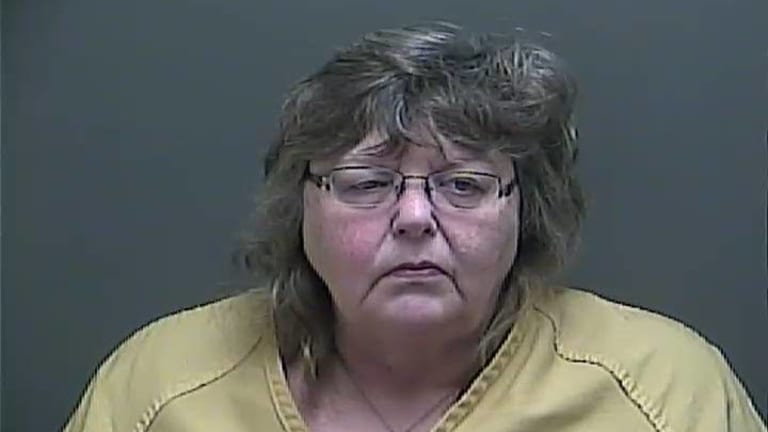 Indiana Woman Charged For Penning Racist Note Targeting New Neighbor's Black Son
The past two years have been extremely liberating for covert racists. Where they once would have bitten their tongues to avoid the backlash which comes from airing their narrow-minded views, they are releasing them freely, without shame nor fear of repercussions.
63-year-old Deborah Cantwell is the latest racist to come of the closet. Cantwell, of Greentown, IN, left a message on the door of her neighbors. The note was allegedly littered with racist slurs directed towards the family's Black son. According to the authorities, a man told Howard County police on Oct. 13 that he'd found the offensive letter attached to a door at his newly-purchased home. The family had not yet moved into the property, but the homeowner decided to stop by the house on his way home from work.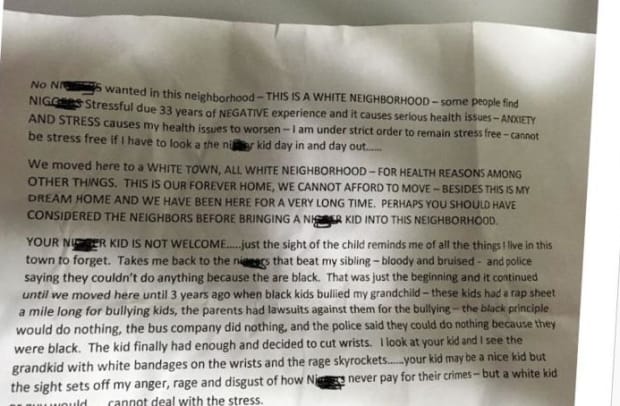 "No N---- wanted in this neighborhood-THIS IS A WHITE NEIGHBORHOOD-some people find N-----Stressful," Cantwell wrote.
Another paragraph began: "YOUR N---- KID IS NOT WELCOME."
The final paragraph noted: "YOU CAN SELL YOUR HOUSE AND MAKE MONEY ON IT RIGHT NOW," and, "BY THE WAY HOPE YOU HAVE DEEP POCKETS."
Officers investigating the crime also found text messages on Cantwell's phone, echoing the sentiments from her letter.
"I am stressing now that we are going to get black neighbors," she texted. "I am hoping that more people look at the house and an all-white family are the ultimate buyers. I am afraid the stress of black neighbors could put me in the hospital. [...] My blood pressure is elevated just thinking about the possibility"
Cantwell admitted to police that she did, in fact, write the letter and even toilet-papering their garden in a bid to deter her new neighbors from moving in, but is perplexed as to how her actions were wrong. 
 According to the Kokomo Tribune, Cantwell told investigators - "I was just trying to let them know that they weren't really … welcome as far as us. … I just needed to let off some steam and it was the – I'm not a violent person so I didn't think it was any big deal."
When given the opportunity to apologize to her neighbors she declined but agreed to go to therapy. The family have since set up a GoFundMe page to raise money for a lawyer to fight against Cantwell's hate crime.
"Around midnight, my husband, who was working late that night, got off work and had to stop by the new house to turn the furnace back on since I forgot. The outside lights were on, so it's well lit.
At first the toilet paper didn't show up that well. The closer my husband got, the more he saw. Not only the toilet paper in the bushes and tree, but the note folded and tucked in the front door.
The toilet paper, that was a warning. The note, that was the threat. An ENTIRE typed out (not signed) letter. A letter about my son who had been watched and plotted against. My bi-racial son. My CHILD was facing bigotry and hatred at a level I can't even fathom. JUST FOR THE COLOR OF HIS SKIN!!!," Amy Howell Pundt wrote on the GoFundMe's campaign page.
"[...]Our house was tp'd and a highly racist, threatening note was left. We just experienced our first ever hate crime. A hate crime AGAINST MY SON!!! A CHILD!!..."
So far $1,708 of the $5,000 goal has been raised.
Cantwell faces misdemeanor intimidation and criminal mischief charges and is required to attend court on Nov. 19 for the initial hearing.