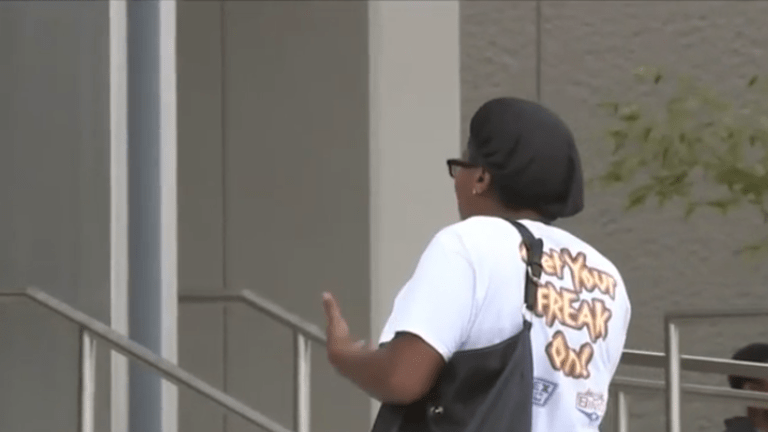 Houston principal bans parents from wearing head scarfs, pajamas and underwear to school
A principal in Houston has cracked down on inappropriate attire worn by parents attending the school by enforcing a strict dress code.
Principal Carlotta Outley Brown of James Madison High School has sent a letter to the students' families and posted the new dress code on the school's website, outlining clothing which is inappropriate to wear to the school.
"Please know that if you break our school rules/policies or do not follow one of these rules, you will not be permitted inside the school until you return appropriately dressed for the school setting," Brown's letter reads. 
"Parents, we do value you as a partner in your child's education. You are your child's first teacher. However, please know that we have to have standards, most of all we must have high standards. We are preparing your child for a prosperous future."
Newsweek got a hold of the letter, and here are some of the points raised by Brown:
Very low-cut tops or revealing tops that you can see your busts (breasts) will not be permitted in the building or on the premises.
Dresses that are up to your behind will not be permitted on the premises or in the building or any attire that is totally unacceptable for the school setting.
Leggings that are showing your bottom and where your body is not covered from the front or the back (rear) will not be permitted in the building and on the premises.
Pajamas of any kind will not be permitted in the building along with house shoes or any other attire that could possibly be pajamas, underwear, or home setting wear.
She added, "We value you but we must ask you to value and follow the rules of the school environment. This guideline will apply to any or all events that happen inside/outside of Madison's premises. Thanks for understanding and being a partner."
KPRC spoke to one mother, Joselyn Lewis, who was unhappy with the new policy.
"She said that my headscarf was out of dress code and my dress was too short," Lewis said. "I wanted to see proof of where it says parents can come dressed a certain way, but it wouldn't show me that. I wouldn't leave, so they called the police department. They called them on me and I guess he was coming to tell me to leave, but I was already on the phone with the school board," Lewis said.