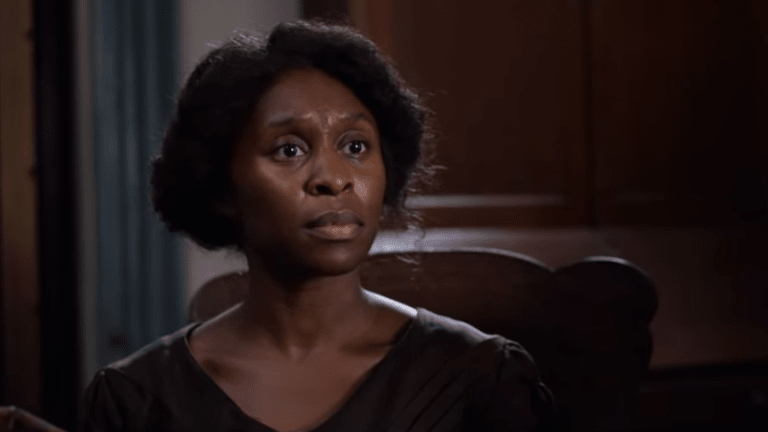 Harriet Tubman's relative responds to news that Julia Roberts was suggested to play her in new movie
A descendant of revolutionary Harriet Tubman has responded to claims made by Harriet screenwriter Gregory Allen Howard that a Hollywood executive in the '90s suggested casting Julia Roberts as the woman who freed countless slaves. 
"I was told how one studio head said in a meeting, 'This script is fantastic. Let's get Julia Roberts to play Harriet Tubman,'" Howard said. "When someone pointed out that Roberts couldn't be Harriet, the executive responded, 'It was so long ago. No one is going to know the difference.'"
Tubman's great-great-great-grandniece Tina Wyatt spoke to TMZ, calling the suggestion "disrespectful."
"What do you think would have happened?" Wyatt said. "You would have had a boycott.
"Our history was important, and it is important. We know the difference. It was important years ago before it was in our history books. When I was a child it was important, but we were taught our history through our families, we were taught our history through our churches. We were not ignorant," she continued.
Earlier this month, Wyatt opened up about what it was like growing up knowing she was a descendant of Tubman:
"We did not have anecdotal information about her growing up. My great-grandmother worked alongside Aunt Harriet and also lived with her for a short period in her home," she told Focus Features.
"My grandmother also knew her. What was said was simply that Aunt Harriet was just another aunt. She was just somebody who is related to us in our family. We knew what family meant to her. Her love of family was one of the things that was perpetuated. The other thing was her faith, a belief in taking yourself out of the center in order to serve the needs of other people. That is really something that has been passed down from Aunt Harriet to my great-grandmother to my grandmother to my mother and now to me. And I am passing the same beliefs down to my children and my grandchildren.
The movie, Harriet, has grossed over $32 million at the box office.