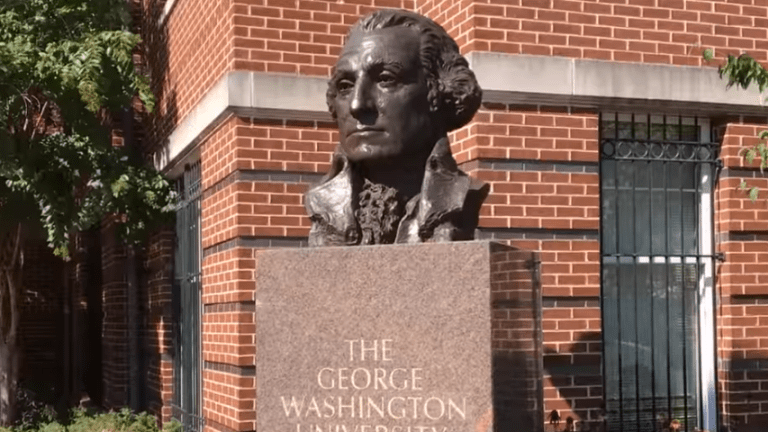 George Washington University president apologizes for 'insensitive' racial remark
The president of George Washington University has issued an apology for making an "insensitive" remark, comparing support for fossil fuel divestment to hypothetical support for shooting black people.
Thomas LeBlanc can be seen in the video being approached on a sidewalk by a first-year student and asked whether the university would divest its holdings in fossil fuel companies and close the Regulatory Studies Center.
"Doesn't matter," LeBlanc replied. "What if the majority of the students agreed to shoot all the black people here? Do I say, 'Ah, well the majority voted?' No."
Le Blanc quickly issued an apology for the thoughtless comparison:
"I attempted to emphasize a point and used an insensitive example that I realize could be hurtful to members of our community," LeBlanc said. "The point I was making — that majority rule should never suppress the human rights of others — was obscured by the example I used. I regret my choice of words and any harm I unintentionally inflicted on a community I value greatly."
The comment was made shortly after LeBlanc defended free speech -- "I hear the people who are concerned about it, but from everything I know about it so far, this is pure academic free speech," said LeBlanc, referring to the Regulatory Studies Center. "I'm not shutting down every voice that the students disagree with."
Joe Markus, a student, affiliated with Sunrise GWU, a student group that focuses on reducing fossil fuel dependence, weighed in on the controversy.
"The fish smells from the head," Markus said. "If the university president is using language like he is using in this video, then, clearly, the problem of racial sensitivity and racism on this campus is clearly something that is deep-seated and requires serious self-reflection from the decision-makers of this university."