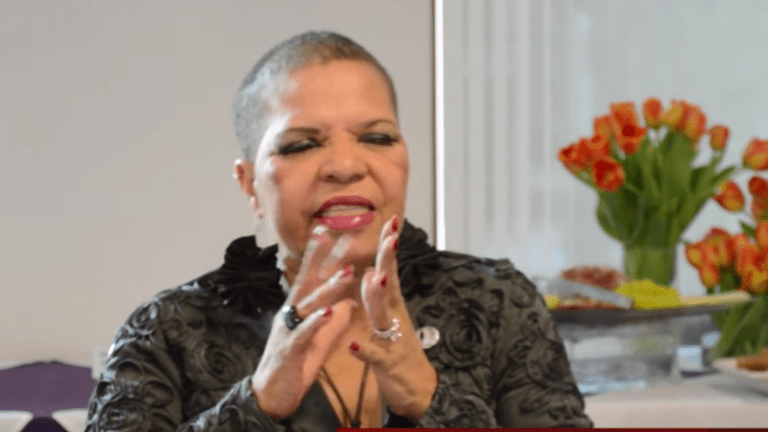 'For Colored Girls' Playwright Ntozake Shange Dies at 70
Playwright, poet, and novelist Ntozake Shange, has passed away at 70.
The family of Ntozake "Zake" Shange shared via the writer's Twitter account by family members.
"To our extended family and friends, it is with sorrow that we inform you that our loved one, Ntozake Shange, passed away peacefully in her sleep in the early morning of October 27, 2018. Memorial information / details will follow at a later date."
Shange is the author of many formidable pieces of work but is most known for her play For Colored Girls Who Have Considered Suicide/When the Rainbow is Enuf. The choreopoem, which is a series of 20 separate poems which intertwine, was later adapted into a screenplay by Tyler Perry.
Shange was born Paulette L. Williams in Trenton, NJ. Later, she moved with her parents to St. Louis, which at the time was a segregated city where she was bussed to schools and faced racism from the whites around her. She was encouraged by her family from a young age to study the arts along with her sister, playwright Ifa Bayeza.
Shange later married, but the marriage was short, causing her to spiral into depression. Once she'd made peace with her situation, she decided to legally change her name to. In Xhosa, Ntozake means "she who has her own things" (literally "things that belong to her") and Shange means "he/she who walks/lives with lions" (meaning "the lion's pride" in Zulu). He past experiences have all equally helped to influence her pen.
Other notable works from Shange include Sassafrass, 'Cypress & Indigo' and poetry collections like 'Nappy Edges' as well as 'Daddy Says'(1989), Spell #7 (1985), 'From Okra to Greens/A Different Kinda Love Story' (1983) and 'Whitewash' (1994).
Her works have influenced generations of Black women and her legacy will forever live on.
"I am very grateful as I review my life. I had time to review my life for the 10 years I was in bed. I realized I had [worked] with remarkable dance teachers who were legendary or if they weren't legendary they should have been. I had remarkable contemporary colleagues whose work inspires me to this day like Jessica Hagedorn, Thulani Davis, or Susan Griffin or Alta. They still inspire me and I keep discovering new ones like Jessica Care Moore from Detroit. I work with young poets Herind Tinson in Virginia and Mariposa Fernandez in the Bronx. I encourage them. I try to stay in touch with them. I love new voices. I'm concerned with what they are thinking about. It is invigorating," she told Shondaland during an interview back in 2017.
Here are just a few of the online tributes to Shange.
Rest in peace, Zake!