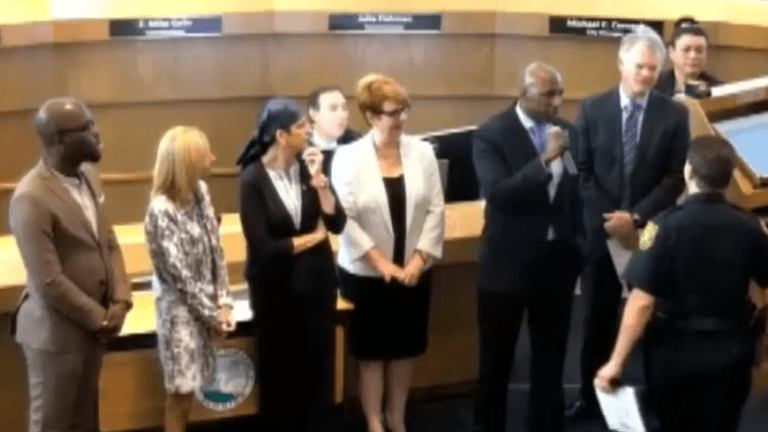 Florida official confronts Deputy at awards ceremony: 'You're a bad police officer'
A Floria government official has gone viral after he called out a Broward County officer while he was being awarded the Deputy of the Month in a ceremony.
Officer Joshua Gallardo was one of the officers to be honored on that day, but one of the commissioners, Mike Gelin, took the microphone and addressed Deputy Gallardo directly about a prior interaction: "You probably don't remember me, but you are the police officer who falsely arrested me four years ago."
"You lied on the police report," Gelin continued. "I believe you are a rogue police officer. You are a bad police officer, and you don't deserve to be here."
Mayor Michelle J. Gomez is seen in the video grabbing the microphone from Gelin, quickly telling the deputies that city officials appreciated "everything that you do for us."
In July 2015, Gelin claimed that he was at a Starbucks when he saw two men fighting across the street and rushed to break up the fight. Deputy Gallardo wrote in a police report that he responded to a call of a victim who was bleeding from his ears and skull and that Gelin, who recorded the incident, approached the Deputy from behind and was handcuffed when he refused to leave the area.
Gelin spoke to the NY Times, where he said he was in jail for nine hours, and prosecutors dropped the charge after seeing the video of his arrest recorded from his phone.
"I was profoundly affected by my wrongful arrest," he said. "It was a traumatizing experience, and I think about it a lot. I had a flashback at the meeting and thought it was the right thing to do to call out the officer."
"Wrongful arrests have lifelong impacts on people and happen more than people would want to believe," Mr. Gelin said. "I need to be a voice for the people who don't feel like they have a voice or the courage to express their voice."