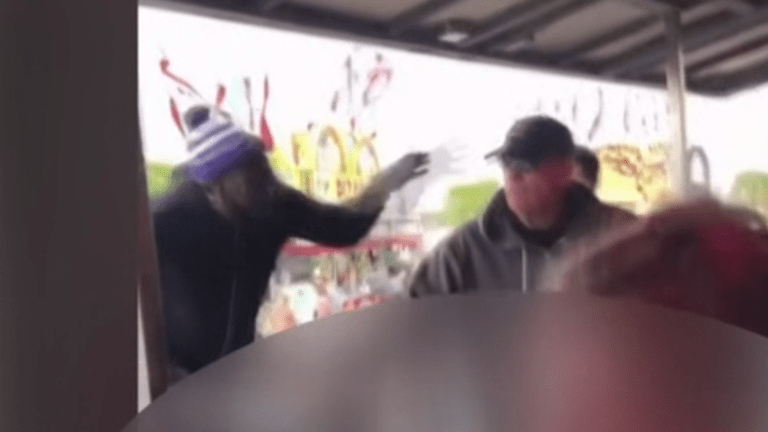 Florida fair worker fired for using racial slur
A fair worker from Florida who was heard in a now-viral video posted on social media hurling a racial slur while operating a ride filled with children has been fired.
Trevor Reiland witnessed the incident that took place at the Lee County Fair in southwestern Florida posted the video to her Facebook account.
"Can't even enjoy the fair these day. Guy drags the operator off the ride after being called the N word," Reiland wrote in the video's caption.
Reliand wrote that the "older white guy" in the video called the other man the N-word about four times. Shortly after, the ride operator is heard calling the man a racial slur. The man then attempts to drag the operator him over the platform rails by his neck.
The manager of the Lee County Fair released a statement saying: 
"The Board of Directors of the Southwest Florida and Lee County Fair Association, Inc. does not in any way condone the type of behavior displayed in the video.
"The Fair Association strives to provide the community with a family friendly, safe, fun, and affordable experience that can be enjoyed by all. The Fair is not just about the rides. The Fair is an opportunity to share the importance of Agriculture and Education. In our ever changing world, it's good to go back to the basics of an earlier time and share those times with the youth of today. Agriculture and Education have come a long way, and technology plays a major role today. When all is said and done, it's still about providing food for the people and preparing them for the future. Our goal is to have a positive impact on the learning experience of our exhibitors as well as our guests and to encourage their continued involvement in the Fair."
Reithoffer Shows, the company that supplies fair workers to Lee County, slammed the employee's actions in a separate statement.
"Regardless of the provocation, there is no excuse or tolerance for discriminatory or offensive actions directed to a patron, guest or anybody else for that matter," Reithoffer Shows said in a statement on its Facebook page. "It does not make any difference whose fault it was, the conduct of our representative was inexcusable and our entire family and management team extends our apologies."