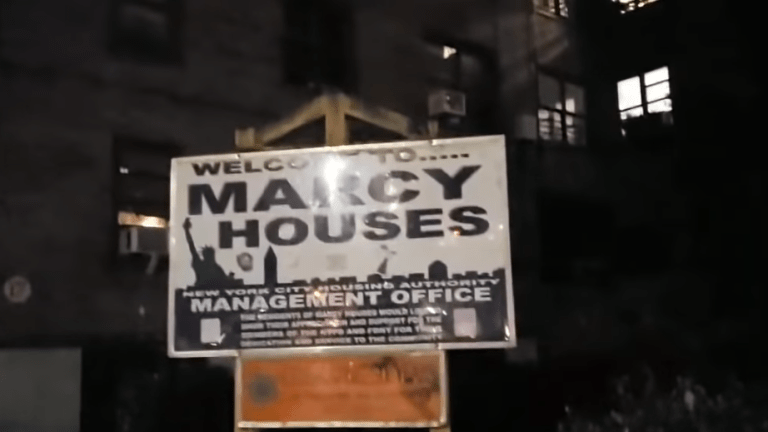 Five New York citizens sue the city over alleged Police Brutality
Five residents of New York have announced that they intend to sue the city and the NYPD over injuries suffered in a series of clashes with cops at three Brooklyn public housing developments over the weekend.
One alleged victim, Janey Graham, 29, claims she was hit in the head from behind and knocked down during Family Day. Another alleged victim is her nephew, Jeffrey Lloyd, 22, who suffered a torn rotator cuff.
According to the New York Daily News, officers punched him at the Marcy Houses while he was handcuffed in a police van. Graham was using her phone to record Lloyd in the van when she allegedly was punched from behind. Graham says that she needed five staples to close an open wound in her head.
"The officer that was in the van with him just turned around and punched him," she said. "When that happened I tried to take out my phone to record the situation of my nephew getting hit in his face with handcuffs; the officer that was behind me just struck me in my head and I immediately just fell to the ground, and I was just gushing blood, gushing blood."
Lawrence Lee, 22, claimed he suffered a fractured jaw from police attacks over the weekend. Uniqua Silver, 23, claims that she was beaten with a police baton at the Roosevelt Houses. Silver says that she may lose one eye as a result. Ron Fernandes, 24, suffered an injured jaw on Bainbridge St. in a confrontation with cops.
"We are facing an epidemic of police violence against citizens in this city," the group's lawyer, Sanford Rubenstein said. "There is police brutality in our city. We are calling for a criminal investigation with regards to the actions of these police officers in each and every one of these occurrences."
Civil rights activist Hawk Newsome also weighed in on the incident:
"The police do not want us monitoring their behavior," Newsome said. "Therefore, you have this woman (Graham) who has staples in her head and this sister over here who may lose her eye (Silver) because she was upset with what the police were doing and pulled out their phones. They were brutalized because they pulled out their phones to cop-watch."
Sgt. Mary Frances O'Donnell, a spokesperson for the department said, "the matter is under internal review," and that "we will review the lawsuit once we are served."
Graham was not charged with any offenses. The four other people are still facing disorderly conduct charges while Lloyd was also charged with refusal to disperse. Silver is also facing a charge for interfering with governmental administration, resisting arrest, and drinking in public.