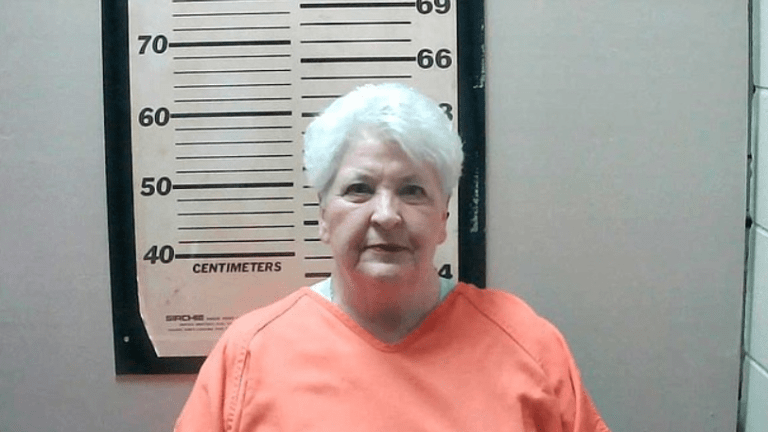 Ex-campground who pulled gun on Black couple has been charged
A white campground manager, who was fired from her job after video footage of her pulling a gun on a Black couple enjoying a picnic by the lake, has been arrested and charged.
Ruby Nell Howell, 70, of Starkville is charged with threatening exhibition of a weapon, according to a news release. The former campground manager reportedly turned herself in Tuesday morning and was released on a $500 bond, the sheriff's office said. She is scheduled to be in court June 25.
Howell confronted the couple about whether they had acquired a reservation before camping out on the spot.
"She jumped out and the gun was pointed at me, my husband, and our dog. It was just pointing at us. One finger was on the trigger and one finger was on the lever of the revolver," said Jessica Richardson told WCBI.
Richardson then pulled out her phone and began filming.
"She was just like, 'get, get, you don't belong here, you don't belong here, you don't belong here,'" said Richardson.
"Today was a beautiful day so my husband (who's a vet), our 2 year old dog, and myself, decided to Google a lake to visit and have a picnic. We found a lake located in starkville, ms and decided to visit. Not five mins later a truck pulls up and a white lady screams at us, she then jumps out of her truck with a Gun. And proceeded to point it at the 3 of us, simply because we didnt make reservations," Richardson wrote on a Facebook post she uploaded after the confrontation.
Kampgrounds of America issued the following statement after being alerted to the incident:
"The incident involved a campground employee and two persons seeking to access a lake via the campground's private property. Unfortunately, the campground employee felt it necessary to display a firearm during the interaction with the two individuals and their dog," before adding that Howell had been fired.