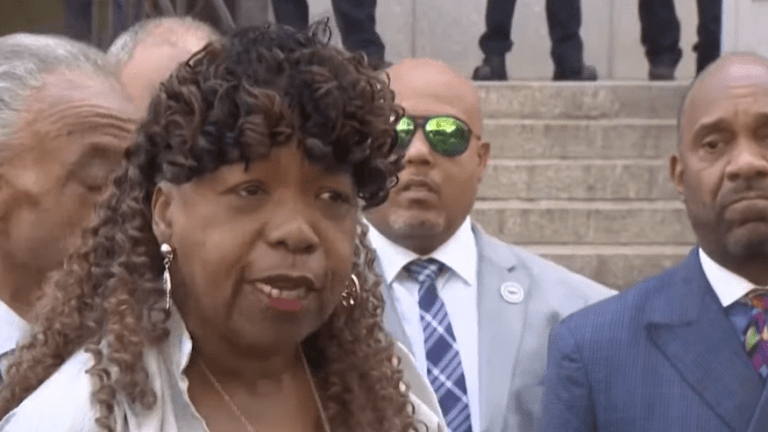 Eric Garner's Stepfather, Ben Carr Dies at Daughter's Funeral
Ben Carr, the step-father of NYPD chokehold victim Eric Garner, died Friday from an apparent heart attack while walking his daughter down the aisle at her wedding.
"Almost 2 weeks ago Ben Carr stood with his wife, Gwen Carr (mother of NYPD victim Eric Garner), his grandson, Eric, Jr and his daughter at the gravesite of Eric. This morning Ben passed while in Jamaica attending his daughter's wedding," Rev. Al Sharpton wrote in an Instagram post.
"I'm deeply saddened beyond words. Pray for Gwen and the Carr/Garner family. #EricGarner," his post concluded.
Ben was often seen beside his wife — Gwen Carr, Eric's mother — in her fight for justice in the case of Eric's death. Eric Garner died in the chokehold of an NYPD officer in 2014. His death continues to spark protests around the country.
Garner's death was captured on video and bystanders filmed the arrest on their cellphones, recording Garner who gasped "I can't breathe," several times before he was suffocated to death as officers piled on top of him. His last words have become a rallying cry for many activists in the Black community. 
Earlier this month, Attorney General William P. Barr ordered the case against the officers accused of killing Garner be dropped.
"Five years ago, Eric Garner was choked to death; today the federal government choked Lady Justice, and that is why we are outraged," Rev. Sharpton told press at the time.
NYPD Officer Daniel Pantaleo has remained on the payroll since the incident.