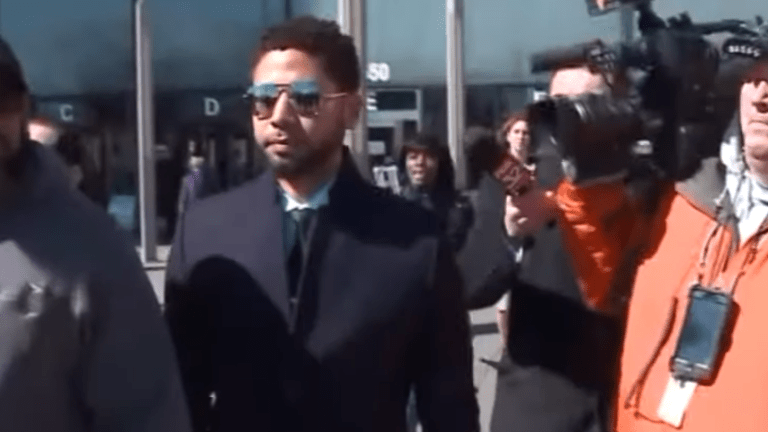 'Empire' actor Jussie Smollett sues city of Chicago for 'malicious prosecution' in hate crime case
Empire actor Jussie Smollett has filed a lawsuit against the city of Chicago, charging them with malicious prosecution.
Smollett filed a counterclaim against the city after its April lawsuit demanding that he pay $130,000 to make up for the 1,836 hours of police overtime spent looking into the alleged hate crime. Smollett alleged that in the early hours of the morning, he was on his way to Subway when two white men attacked him, yelling racial and homophobic slurs. He also alleged that they poured bleach on him and tied a noose around his neck.
The city accused the star of paying two men to attack him and says he filed a false police report regarding the alleged hoax.
Chicago stated its intention also to seek attorneys' fees and a civil penalty of $1,000 for each of the lies Smollett allegedly told.
The star maintains his innocence and is refusing to pay the fine, also demanding that the $10,000 that he shelled out be refunded.
"Having agreed to accept $10,000 from Mr. Smollett as payment in full connection with the dismissal of the charges against him," the counterclaim filed Tuesday stated of his bond, "the City cannot seek additional recovery from Mr. Smollett under the doctrine of accord and satisfaction."
Back in March, Smollett was indicted on 16 felony counts for allegedly lying to police.
Rahm Emmanuel (D), the mayor at the time, called it a "whitewash of justice." State Attorney Kim Foxx was then forced to recuse herself from the case before Smollett's arrest, but she made headlines after it was revealed that she remained involved with the case even following her recusal.
This week, Foxx announced her plans to run for reelection:
"We started this administration talking about the fact that we were going to use our criminal justice to deal with violence. And those cases that could be dealt with outside of the justice system, we would deal with outside of the justice system," she said per WaPo. "But even as you do that, you have to keep people informed. You have to talk about it. You can't do things where people don't understand. Because once that happens, once the misunderstanding happens, it's hard to unwind that."