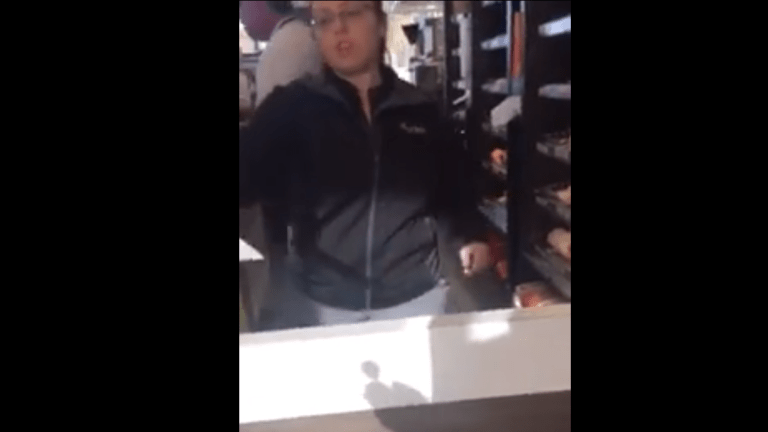 Dunkin' Donuts Owner Calls Cops on Black Woman Trying to Use Store's Free Wifi
A Dunkin' Donuts owner in Virginia called the cops on a Black, female customer after arguing over the company's free Wifi policy.
Tirza Wilbon White, PhD, posted her recorded conversation with franchise owner Christina Cabral at Dunkin' Donuts in Fairfax, Virginia, to Facebook. 
"I had just sat down when a woman I had never seen before walked up and asked, 'Are you going to buy coffee?'" White told Yahoo Lifestyle. "I told her I planned on buying coffee after I got settled, but not if it were mandated."
Cabral said that she'd had problems with customers using the free Wifi and told her that she cannot have people hanging out because they sometimes start trouble. White informs her that she feels unwelcome but Cabral is unmoved. When being challenged about racial profiling, Cabral denies the accusation and accuses White of blackmailing her.
White had been going to the Dunkin Donuts at least once or twice a week for the past two years.
According to White, the woman, who identified herself as a "quality assurance manager" gestured toward another Black customer, saying that he had purchased food before using Wifi. White then asked Cabral if a nearby white customer was held to the same standard, and Cabral ordered that she purchase coffee or leave. 
Cabral says, "I get to make my own rules…I need to ensure safety to my customers." She also cited previous customers who caused trouble without making purchases. "It's nothing against you," she says. "We're just trying to make our customers feel safe."
So now, we can add using free Wifi to the things we can potentially get arrested for.