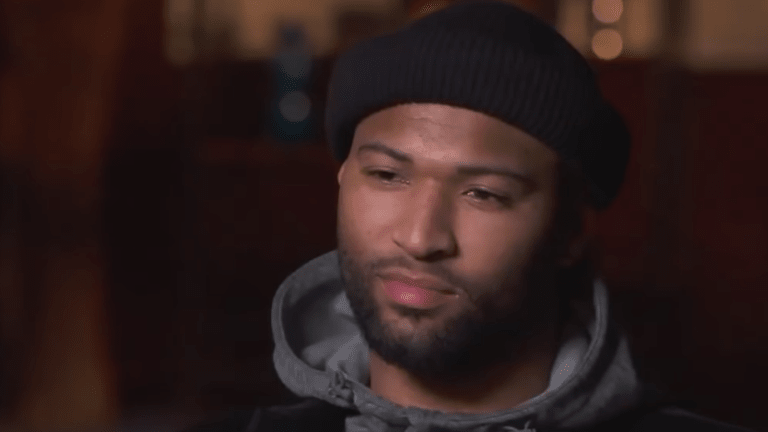 DeMarcus Cousins Claims NBA Told Him To Ignore Fans Using Racial Slurs
Golden State Warriors power forward DeMarcus Cousins sat down with Yahoo Sports' podcast, 'Posted Up where he claimed that the NBA told him to simply ignore fans who hurled racial slurs at him.
"I've been called n*gger. And it's crazy because this has happened to me on a few occasions. I reported it to the league, and, you know, I may have said whatever I said back and I was still punished for it. But obviously it became a bigger issue when it was Russ [Westbrook], and he was still fined for it. I don't really understand it. We're the product. We push this league, so I don't understand. When does our safety, when does it become important?"
Westbrook got into a heated exchange with a man named Shane Keisel during a Utah Jazz game earlier this month after he receiving a barrage of racial slurs from the man and his wife. He was fined $25,000 for lashing out at the fan, telling him "I'll f*ck you up." 
The Jazz fan was banned by the team.
"I don't really want to [name cities or teams] because I'm not really trying to put a label on an entire fan base," Cousins said. "There are ignorant individuals in every city. I'll just put it like that. … [The league] tells you to ignore it, or whatever the case may be, but how many times am I supposed to ignore that. Me coming from where I come from [Mobile, Alabama], they lucky all they got was a response."
He continued:
"It's crazy. I remember the whole incident with the whole 'F*ck Golden State' thing, I remember specifically those fans talking crazy to me the entire game, and then I come out the game and it's those same exact fans. And I knew they were Golden State fans, so I said what I said. I talked to the league. I'm like, 'Such and such and such was said. I was getting called bitches and all this other stuff, punk boys, whatever.' But they was like, 'All right, but you flipped them off.' I'm pretty sure them dudes are still enjoying games [today]. So it's like I'm the bad guy because I react?"
Listen to the interview below.