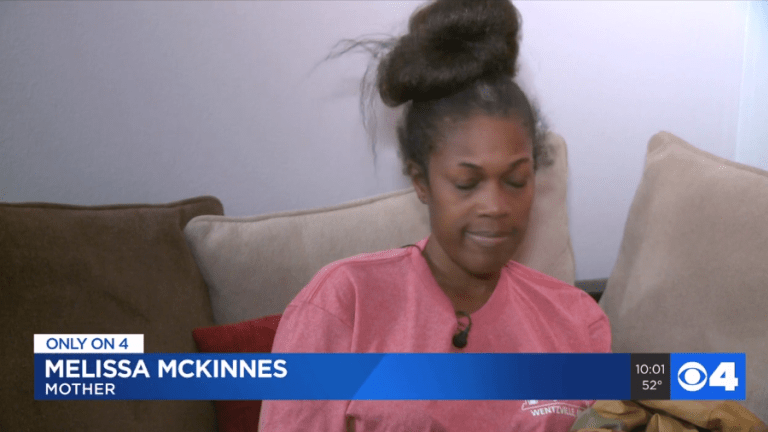 Danye Jones' Lynching Being Investigated as a Suicide; Mother Wants Answers
The police are currently investigating the lynching of Ferguson activist, Danje Jones, as a suicide but his mother does not agree with their findings.
Melissa McKinnies, posted a Facebook message, saying "They lynched my baby," along with a harrowing image of her song hanging from a tree. After the image went viral, supporters of the family and the general public are putting pressure o the authorities officials for answers about the alleged lynching of 24-year-old Jones. McKinnies discovered her son's dead body Oct. 17. hanging from a tree in the backyard of their home in Spanish Lake, in St. Louis County.
Just yesterday, McKinnies posted an update to Facebook stating that she is "sick with grief but ready to get up and fight for my baby."
A police report lists "suicide" as the nature of the investigation and they are also claiming that there was a chair near Jones when they arrived to investigate the scene, but his mother claims that he also had bruises on his face which could indicate foul play.
"He was not suicidal at all, at all," McKinnies told KMOV. "He was in good spirits [...] What it appears to be to us is that somebody took my son."
She also revealed that she thinks her family is being targeted and that they've been getting death threats via social media over the past two months. She also told KMOV that her family was being watched.
"They watch my house and when my husband and my son would approach the car they would drive off," said McKinnes.
Family members told KMOV the sheets used to hang him didn't come from their house and the knots used to tie the sheets were advanced and that Jones would not have been capable of making those knots.
They are now awaiting the medical examiner's determination of the cause of death, but that could take several weeks.
"Saying that he committed suicide, no, you're going to respect him," McKinnies said.
McKinnies and Jones were well-known activists and were extremely involved in the Ferguson protests following the killing on Mike Brown. When asked by KMOV whether she feels as though this is the reason her family is being targeted, she explained that she would reveal more information during a scheduled family news conference later today. A rally in support of Jones has also been scheduled for today outside the St. Louis County Justice Center in Clayton, Missouri.
The Rev. Darryl Gray, also a leading activist in the city, confirmed McKinnies' Facebook posting and explained that Facebook removed the image from her page.
He stated that McKinnies and other activists from Ferguson are often harassed and threatened via text and social media.
"She believes (Jones' death) was meant as a message to her," Gray said.
Police are still investigating the deaths of two prominent Ferguson protesters, both of whom were found in their vehicles after suffering gunshot wounds to the head. DeAndre Joshua and Darren Seals' vehicles were both set on fire after both shootings.