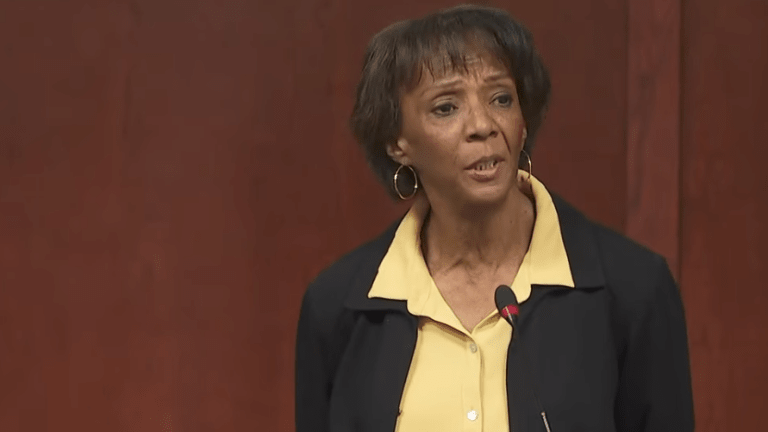 D.A. Jackie Lacey's husband threatens to shoot Black Lives Matter protesters at his home
The husband of Los Angeles County District Attorney Jackie Lacey is catching heat after he pointed a gun at unarmed Black Lives Matter protesters during a confrontation outside the couple's home on Monday.
In the video from the scene, Lacey's husband can be seen standing in the doorway of their home pointing a gun and shouting, "I will shoot you. Get off of my porch."
The Los Angeles Police Department responded to the incident, but no arrests were made, and nobody was reportedly injured at the scene.
Lacey offered an apology on her husband's behalf at a press conference on Monday but also took the time to put the protesters on blast.
"His response was in fear, and now that he realizes what happened he wanted me to say to the protesters, the person that he showed the gun to, that he was sorry, that he's profoundly sorry, that he meant no one any harm," an emotional Lacey said.
A group of about 30 protesters arrived at the Lacey household before dawn Monday, according to Melina Abdullah, a Black Lives Matter organizer and Cal State L.A. professor. Abdullah says that she was one of the protestors looking down the barrel of Lacey's gun. 
Abdullah said that this was not the first time that they had protested outside of the Lacey's family home.
When asked why her husband responded in such a manner, Lacey replied:
"I don't think you ever get used to anybody coming to your house," she continued. "It was frightening. I know that the protests have escalated. Even at the last debate, a guy ran toward the stage. I wasn't sure what was going to happen."
The incident comes as Los Angeles County voters are set to cast their ballots in what has become a fierce race for district attorney.