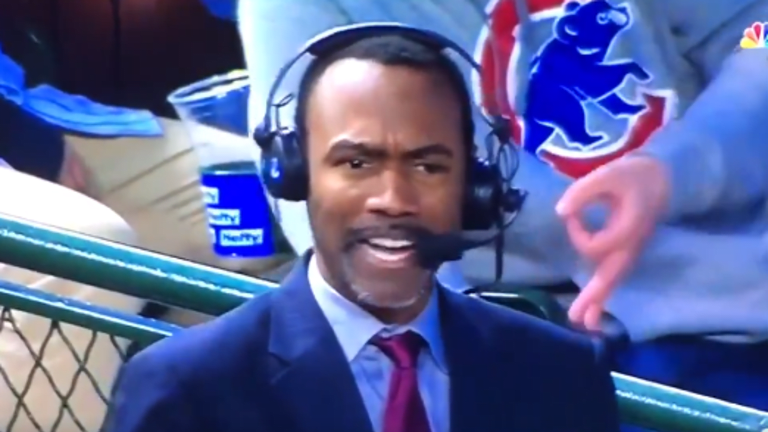 Cubs fan facing lifetime sneaking racist symbol onto live TV broadcast
A Chicago Cubs fan could be facing a lifetime ban after he snuck in a racist hand gesture live on air.
The ignorant fan appeared to throw up a 'white power' signal behind the back of a Black newscaster, Doug Glanville, a former outfielder for the Cubs who currently works as an analyst for NBC Sports Chicago.
Glanville was covering Tuesday night's game at Wrigley Field against the Miami Marlins when a fan seated formed an upside-down "OK" symbol — a hand gesture associated with white supremacy.
"We are currently investigating an incident that occurred during the Cubs' May 7 broadcast on NBC Sports Chicago while reporter Doug Glanville was on the air," Cubs president of business operations Crane Kenny said in a statement to The Post. "An individual seated behind Mr. Glanville used what appears to be an offensive hand gesture that is associated with racism."
The statement continued:
"Such ignorant and repulsive behavior is not tolerated at Wrigley Field. We are reviewing this incident thoroughly because no one should be subjected to this type of offensive behavior. Any derogatory conduct should be reported immediately to our ballpark staff. Any individual behaving in this manner will not only be removed from the ballpark, but will be permanently banned from Wrigley Field."
The controversy less than a month after Major League Baseball launched an investigation into racist messages sent to Cubs relief pitcher Carl Edwards Jr. on social media.
The "okay" hand gesture as a symbol of white intolerance reportedly started as a joke by trolls on the 4chan message board in early 2017, as to trigger liberals and trick the media by pretending the widely used hand signal had a secret racist meaning, according to The Post.
But in the Trump era, we all know it has a secret meaning.