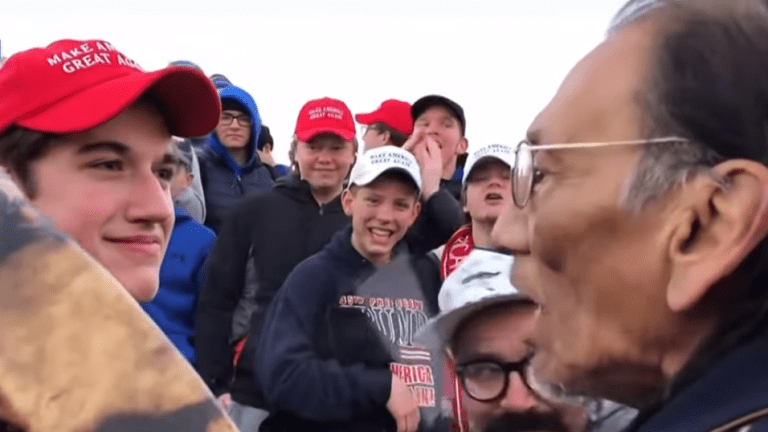 Covington Catholic High student Nick Sandmann sues NBC for $275 million
The MAGA teenager who went viral after a video of him standing down Native American demonstrator Nathan Phillips is reportedly now suing NBC for $275 million.
Covington Catholic student Nicholas Sandmann recently filed a lawsuit against The Washington Post for $250 million and CNN for $275 million and feels that NBC should also cough up some cash. 
"Today, @LLinWood and I filed a $275,000,000 lawsuit against NBCUniversal on behalf of Nicholas Sandmann. The facts of the suit show the anti-Trump narrative NBC pushed so hard," Sandmann's lawyer Todd V. McMurtry wrote on Twitter.
"This action for defamation arises out of television and online reporting by
NBCUniversal Media, LLC, which published false and defamatory accusations against Plaintiff Nicholas Sandmann ("Nicholas"), a minor, the 16-year old student who stood quietly for several minutes after being unexpectedly confronted without explanation by Nathan Phillips ("Phillips"), a Native American activist, who beat a drum and sang loudly within inches of his face on January 18, 2019, at the Lincoln Memorial (the "January 18incident")," the complaint reads.
The lawsuit also claims that NBCUniversal put out 15 defamatory newscasts and six defamatory articles, and social media posts about the incident.
"In short, the false and defamatory gist of NBCUniversal's collective reporting conveyed to its viewers and readers that Nicholas was the face of an unruly hate mob of hundreds of white racist high school students who physically assaulted, harassed, and taunted two different minority groups engaged in peaceful demonstrations, preaching, song, and prayer," the complaint reads.