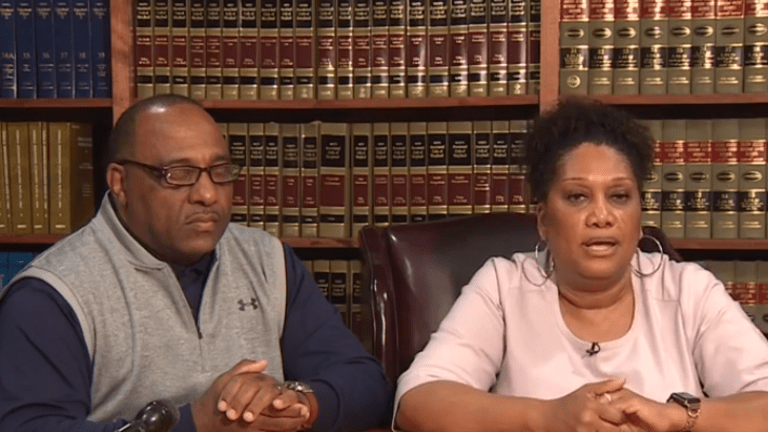 Couple Profiled by Cops Files $4M Lawsuit Against Costco
A Maryland couple who were stopped by police after a shopping trip in Anne Arundel County, has filed a federal lawsuit against Costco alleging that they were racially profiled.
Barbara Wallace and Bahri Wallace talked to WBAL about the incident.
"We were looking for a refrigerator," Barbara Wallace said. 
Her husband Bahri, explained further, "When I made a left on Arundel Mills Boulevard, his lights came on. I looked at Barbara, and I said, 'Did I run the light?' Her response was, 'Is he for us?' I said, 'He's stopping me."
"At that point, I was afraid. Let's just say, even if it wasn't this situation, when you get pulled over by the police and you are African-American, there is a lot to think about and you have to be careful how you conduct yourself. I was afraid for my husband at that point," Barbara Wallace said.
Mr. Wallace then asked why they had been stopped.
"I said, 'What did I do?' He said, 'A manager at Costco said you guys were shoplifting.' I said, 'Shoplifting?' At that point, I asked him did he want to search my truck? I said, 'We didn't shoplift anything.'" 
The couple were shocked even further when they heard the actual 911 call which alerted the police to them.
911 call dispatcher: "Anne Arundel County 911. Do you need police, fire or ambulance?"
Caller: "I need police immediately to Costco Wholesale. I have a robbery in progress."
Dispatcher: "OK, hang on one sec. Are they still in the store?"
Caller: "Yes."
Dispatcher: "You at Arundel Mills?"
Caller: "Yes."
Dispatcher: "What do they look like?"
Caller: "Uh, four black, a female and males."
Police records show that the officers were provided a tag number that belonged to the Wallaces' truck. It was quickly determined that no crime had been committed but the damage had already been done.
The couple then returned to the store to confront the manager.
"(The) manager came up. I said, 'Did you call the police on us saying we were shoplifting?' His response was, 'You fit the bill.' I said, 'Fit the bill?' And he said, 'African-American male and female, and your wife is carrying a blue purse,'" Bahri Wallace said.
"I said, 'What do you mean, African-American, blue purse? What do you mean?' He said, 'Well, you fit the bill. We have been having some problems with ink cartridges, and you fit the bill,'" Barbara Wallace said.
Costco deny any racial profiling, stating "Law enforcement, not Costco, made the decision to execute the stop ... Its staff communicated to a patrol officer that it had not found reason to detain the Wallaces."
A spokesperson for Anne Arundel County police said, "The statement Costco made is not only misleading, it is simply wrong. As can be heard in the radio transmissions at the time of the stop, Costco was still attempting to determine if a crime was actually committed. It was in no way relayed that a stop should not have been made."
Now the couple wants compensation for their humiliation, in the form of a $4 million payout.
"There's more here than a simple mistake," their attorney Chris Griffiths said. "Employees can come to the job with certain biases. Corporations, particularly of this size, are responsible for training individuals. If they are a responsible company, they train individuals to deal with those types of bias. Whether or not Costco has such a program, we don't know, but it's something we intend to find out."
Maybe Costco will think twice before picking up the phone to call the cops for no reason. Idle calls can cost Black lives!