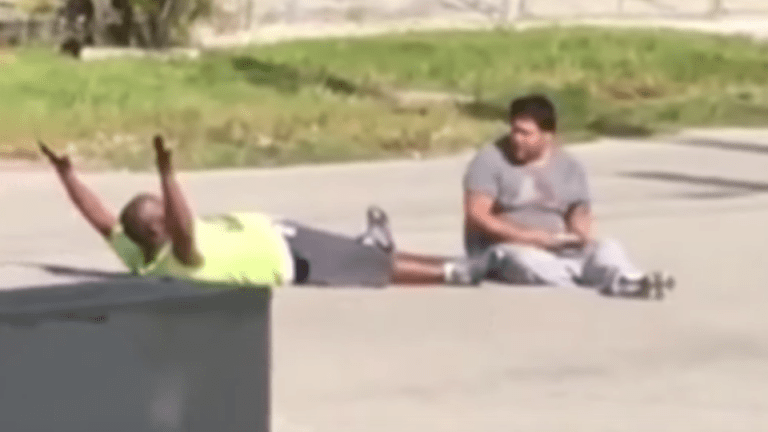 Cop Who Gunned Down Autistic Man's Black Caretaker Acquitted Of Felony Manslaughter
A Florida Police Officer, who went viral after he shot the Black caretaker of an autistic man, has been acquitted of felony manslaughter charges.
Behavioral therapist Charles Kinsey lay in the street with his arms above his head, begging police not to shoot as his autistic client sat on the pavement next to him holding a toy truck. North Miami police officer Jonathan Aledda shot at Kinsley three times, striking him in the thigh despite him being completely unarmed.
Alleda claims that he had aimed for Arnaldo Rios Soto, the autistic man who he believed was holding a gun but struck Kinsley instead.
Aledda was found not guilty on two felony counts of attempted manslaughter, but the jury found him guilty on one misdemeanor count of culpable negligence.
"Since July 18, 2016, our community has been traumatized by North Miami Police Officer Jonathan Aledda's shooting of mental health therapist Charles Kinsey. Tonight, a jury decided that the shooting was not an error or an accident but the crime of culpable negligence," Miami-Dade State Attorney Katherine Fernandez Rundle said in a statement.
Kinsey alleges that he was handcuffed and left on the road for 20 minutes until paramedics arrived. He is now is suing the city. According to NBC News, at least two officers have said they were demoted or fired after they criticized the response to the scene and a subsequent internal report on the shooting have also sued the city.
"Police should take an active role and visit group homes, schools and community centers in their cities and towns and meet their residents who live with significant disabilities, so they are never perceived as threats by just merely existing," Rios-Soto's attorney, Matthew Dietz, told NBC News Tuesday.