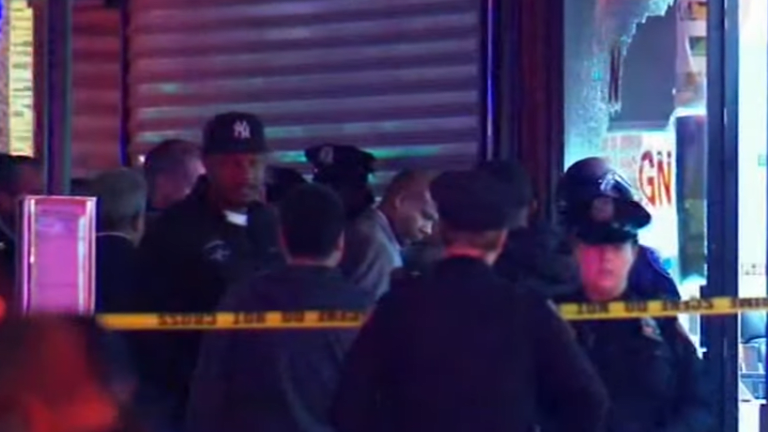 Cop injured in deadly Brooklyn nail-salon melee emerges from coma
An NYPD police officer emerged Sunday from the medically induced coma that doctors placed him in following a deadly melee in a Brooklyn nail salon.
According to reports from several news outlets, Officer Lesly Lafontant, 53, was taken off a respirator and is breathing on his own. He is still receiving care from Brookdale University Medical Center.
"He has a long road ahead of him," one source told The Post. "He has some very serious injuries but it's a good sign that he's sitting up."
The brawl unfolded at the Goldmine Nail Salon on Mother Gaston Blvd in Brownsville. Dewayne Hawkes, 26, reportedly asked a worker to use the bathroom. When the employee refused, Hawkes walked into the salon's kitchen, locked the door behind him, and urinated on the floor, police said.
Salon workers then called the police who attempted to arrest Hawkes, before a T-shirt vendor, Kwesi Ashun, 33, entered the store, slamming a metal chair into Lafontant's head. Lafontant then fired six times, killing Ashun.
Ashun had been diagnosed with bipolar disorder and was evaluated by a city Health Department "mobile crisis team" that determined he wasn't a threat to himself or others just 11 days before the incident, his sister said per The Post.
In 2004, he was accused in the unprovoked slashing of NYPD cop, Officer James Sinnott, who was cut from his left ear to his neck.
Hawkes was charged with resisting arrest, disorderly conduct, and criminal trespassing. He was freed without bail at arraignment Saturday on the condition that he participate in a supervised release program.