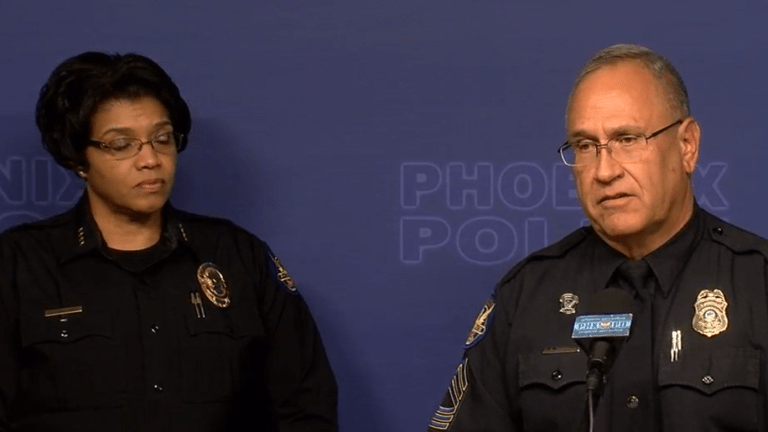 Cop fired for threatening to shoot Black family over doll
A Phoenix police officer who threatened to shoot and kill a Black family after accusing their daughter of stealing a doll has finally been fired.
"The Disciplinary review board (DRB) recommended [Meyer] receive a six-week unpaid suspension, but the decision on discipline is mine," Phoenix Police Chief Jeri Williams told reporters. "And after meeting with the officer Chris Meyer personally, and considering all the facts of the case, I have notified him of my intention to terminate his employment."
The shocking incident took place on May 27, when Phoenix officers responded to a report of a shoplifting incident at a Family Dollar store.
When the officers arrived, they were then told by a clerk about an unrelated shoplifting incident that had just occurred and were directed to three adults and two young children getting into a car in the parking lot.
According to Williams, an officer ran out and tried to speak to the occupants of the car, yelling orders for the driver to stop, but the car kept going, Williams said. 
Officer Christopher Meyer, is then heard yelling at Ames, "I'm gonna put a f*cking cap in your f*cking head."
Ames during a press conference. "I think it's a step in the right direction, change," said Ames. "It gives us hope you know, it gives us a little hope that they are moving in the right direction. That change is coming, and this stuff will stop happening, people will know there are consequences even for officers."
In the video, there was a second officer in the video, who held pregnant mother Iesha Harper and her young daughters at gunpoint. That officer was only given a written reprimand.
"I think he should've been fired too," said Harper.
But Ames says that this is not the end of the incident:
"Some nights, we don't get no sleep. Some nights you just still think about what happened," said Ames. "So to know that he's been fired gives us some type of relief, but there is still a lot more work to be done."
The Ames-Harper family filed a notice of claim for $10 million, which includes $2.5 million for their two children. The family says that the city has agreed to a mediation that has been scheduled for December 18.