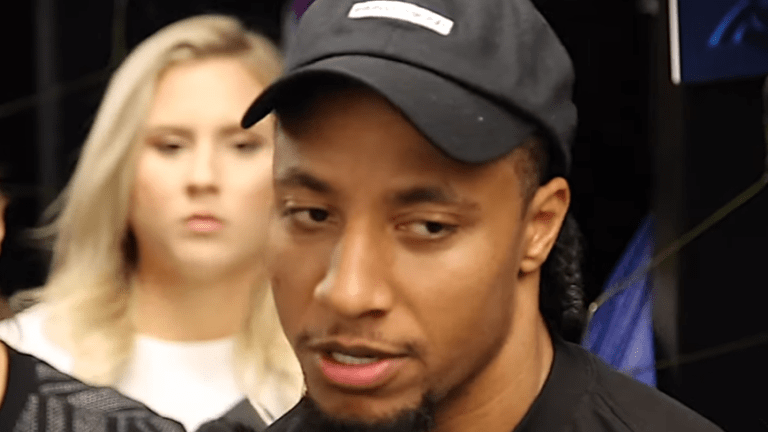 Colin Kaepernick's former teammate Eric Reid skeptical following workout announcement
Earlier this week, Colin Kaepernick announced that the National Football League had invited him to a private workout in a possible path back to the league, but his former teammate Eric Reid is skeptical about it all.
Kaepernick seemed to be over the moon about the upcoming workout, which could result in a possible return to the NFL:
"I'm just getting word from my representatives that the NFL league office reached out to them about a workout in Atlanta on Saturday," Kaepernick tweeted on Tuesday. "I've been in shape and ready for this for 3 years, can't wait to see the head coaches and GMs on Saturday."
But Reid is not getting his hopes up:
"If it's a real process, I'm excited," Reid said, per the Charlotte Observer. "The strange thing is that it's on a Saturday, and it remains to be seen who is going to be able to make that workout, being that it's a day before a game, but we'll see what happens."
He continued: "I spoke to him last night. He had the same concerns that I just mentioned, wondering why it's a Saturday. But he's ready. He's been training like I've been telling y'all ever since I got here. For three years now he's been training, so he's ready.
"I spoke to David Tepper last week when Cam was put on IR. He communicated to me that they weren't looking to add a veteran quarterback, but if they were, they'd be interested. So we'll see if they'll send somebody to be there. [Tepper] said that if they were looking to add a veteran quarterback, that he would be evaluated. I told him I'd hold him to that."
Reid is highly doubtful about the league's intentions, even adding that it could all be a PR stunt.
"At this point, I'll believe it when I see it. At this point, it feels like a PR stunt. Being that it's on a Saturday, what decision-makers are going to be able to attend that workout? The other strange thing is, I saw it was reported that teams were interested in Colin, but they reached out to the league about it? That's strange."