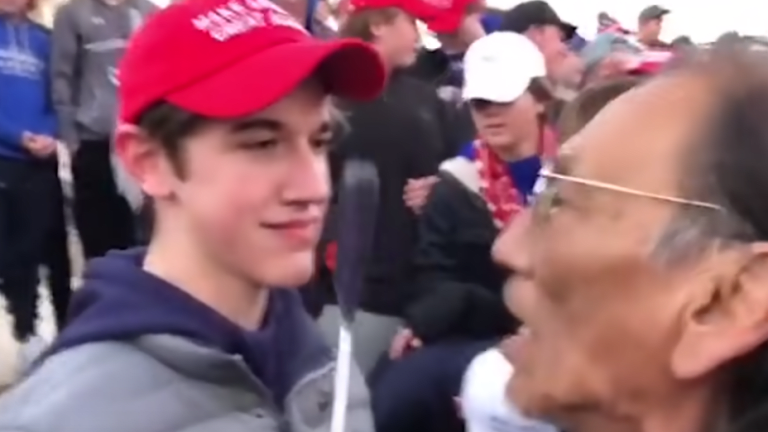 CNN reaches settlement with MAGA Teen, Nick Sandmann
New giants CNN has agreed Tuesday to settle a lawsuit with Covington Catholic student Nick Sandmann.
Covington Catholic student Nicholas Sandmann recently filed a lawsuit against The Washington Post for $250 million and CNN for $275 million before going after NBC News, also for $250 million.
"In short, the false and defamatory gist of CNN's collective reporting conveyed to its viewers and readers that Nicholas was the face of an unruly hate mob of hundreds of white racist high school students who physically assaulted, harassed, and taunted two different minority groups engaged in peaceful demonstrations, preaching, song, and prayer," read the suit per The Wrap. 
"... Contrary to its 'Facts First' public relations ploy, CNN ignored the facts and put its anti-Trump agenda first in waging a 7-day media campaign of false, vicious attacks against Nicholas, a young boy who was guilty of little more than wearing a souvenir Make America Great Again cap while on a high school field trip to the National Mall in Washington, D.C."
The exact amount of the settlement has not yet been released to the public.
In July, his $250 million lawsuit against the Washington Post was thrown out by a judge.
According to court documents obtained by CBS, Judge William O. Bertelsman ruled that seven Washington Post articles and three tweets about Sandmann were protected by the First Amendment and deemed opinion. 
In the viral video, Sandmann was seen wearing a Make America Great Again" hat while smirking at the 64-year-old Nathan Philips as he beat a drum during the Indigenous People's rally. 
At the time, Sandmann told NBC News he doesn't feel like he was disrespectful to tribal elder Phillips at the Lincoln Memorial, where the March for Life and the Indigenous Peoples March intersected.