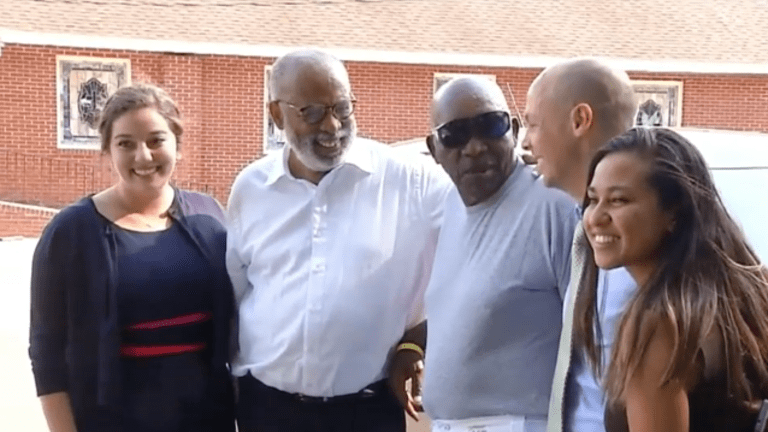 Charles Finch Exonerated After 43 Years of Wrongful Death Row Imprisonment
Charles Finch was arrested and placed on death row in 1976 for murder, even though he was innocent. After 43 years in prison, he has been released and officially been exonerated on all accounts.
In February 1976 North Carolina, Richard Holloman was murdered outside his convenience store. His employee Lester Jones was the only person to witness his employer's murder. 
Jones' testimony vaguely described "three Black Men", in which the Deputy on the case Tony Owens unlawfully suspected frequent store shopper Finch— without any evidence to support it.
Found guilty of capital murder, he was immediately placed on death row as was required by North Carolina state rule during the time.
Last month, judge Terrence Boyle ordered the release of Finch due to evidence of a false forensic testimony and an eyewitness account that was later discovered to be manipulated by law enforcement.
With 15 years of aid from the Duke Wrongful Convictions Clinic, Finch was released from Greene Correctional Institution at 81 years old last month. However his records were not officially expunged until this morning.
Finch is the 166th person in the U.S. who has been found wrongfully convicted since 1973. He is also the second "death-sentenced prisoner to have waited more than four decades to be exonerated."
Finch's story is one of many unlawful and racist policing acts done against black and brown individuals. Many of which who do not have the financial means and support to fairly defend themselves.
Not only are prisons racially disporportionate when it comes to U.S. racial populations, but death row is filled with just as much racial disparities. The NAACP found that even though black Americans account for less than 15% of the total U.S. population, they make up almost 50% of death row.