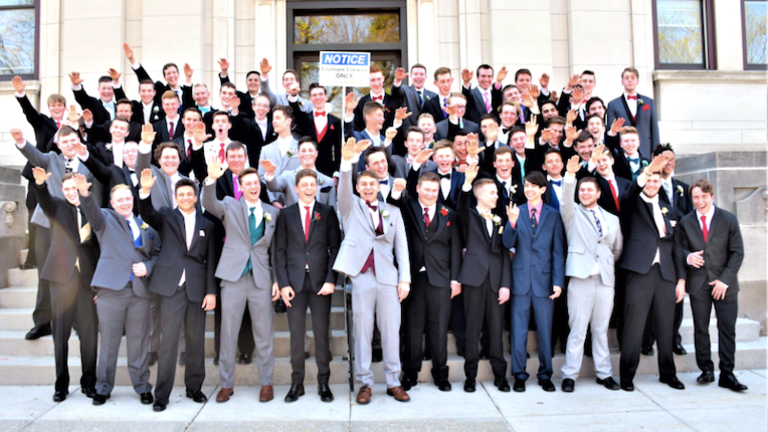 Boys at Wisconsin High School Called Out for Nazi Salute in Junior Prom Photo
A group of white teenage boys from a Wisconsin high school has gone viral after an image of them throwing up a Nazi salute was shared on social media.
The photo was posted last night on Twitter and showed dozens of teenage making the "sieg heil" gesture, dressed in tuxedos.
The Twitter page has since been made private and the image deleted, but screenshots are forever.
"We even got the black kid to throw it up #BarabooProud," the account tweeted after posting the image.
Reports state that the photo was taken by one of the teens' parents at junior prom.
Baraboo school has not yet made an official statement, but the Baraboo School District Administrator hopped onto Twitter 
"The photo of students posted to #BarabooProud is not reflective of the educational values and beliefs of the School District of Baraboo. The District will pursue any and all available and appropriate actions, including legal, to address," she tweeted. 
Young Turks reporter, Jules Suzdaltsev, posted the image, trying to identify the young men in the photograph. Even calling up one young man for throwing up the "white power okay sign".
Suzdaltsev has since been flooded by DM's from former students who have witnessed or experienced evidence of racial bullying and the school's refusal to implement disciplinary actions.
"I hate to say it, but if he/she hadn't taken it we would never know what kids of color in that school must deal with on the daily. Hopefully @barabooSD will use this to launch a full investigation and make some changes," somebody wrote in reponse to the image.
"thank you for posting this. these kids are old enough to know what they are doing and should be expelled. No graduation next year," another wrote.
The public now awaits the school's response to the sickening image.