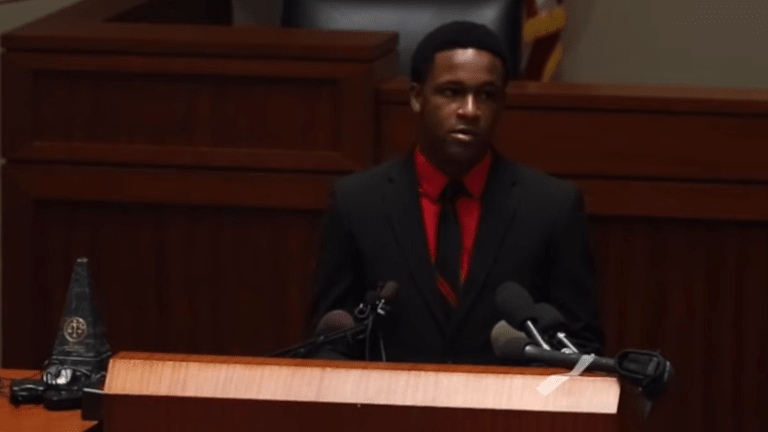 Botham Jean's brother accepts award from police training agency
On Tuesday, Botham Jean's brother, Brandt Jean, received the 2019 Ethical Courage Award for forgiving and hugging Amber Guyger, the former Dallas cop who murdered his brother.
Brandt's decision to accept the award was heavily criticized by the general public. Still, according to the Jean family attorney, S. Lee Merritt, there was a good reason for his actions.
"# BothamJean's little brother Brandt has agreed to accept an award for ethical achievement by a prominent police agency— the Institute for Law Enforcement Administration," Merritt wrote.
"Brandt's act in publicly forgiving the woman that murdered his brother received a great deal of attention, both negative and positive. It's the negative backlash that I wanted to protect Brandt from and one of the reasons I encouraged him not to accept this award. He chose to anyway because he had a message for the law enforcement community. We crafted that message together and I am once again so proud of this 18 year old young man's courage and wisdom."
Guyger shot and killed Jean in his own home after claiming that she thought that she entered her own home and that he was an intruder. She was sentenced to ten years for the murder.
The Dallas Morning News reports that when accepting his award 18-year-old Brandt said:
"I want you all to know that I am not a threat, that young black males are not inherently dangerous or criminal. I implore you to champion policies and procedures that amplify the value of all lives. I insist that you encourage diverse leadership that can model inclusion and restraint."
He continued:
"Most importantly, I ask that you remember my brother. And when you remember him, I want you to ask yourself what are you doing to ensure there will be no other families like mine — no other little brothers that have to model ethical leadership in forgiveness of a cop whose lack of training and discipline caused them to carelessly take the life of another."