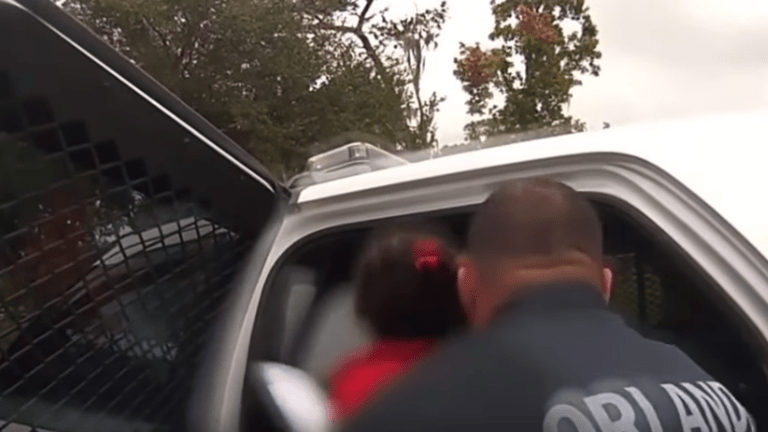 Body camera footage shows 6-year-old girl crying for help as she is arrested at school
The bodycam footage of Orlando police officer arresting a six-year-old Black elementary school student at her school has surfaced online -- and the child's screams and pleas for help will break your heart.
The student in question was reportedly sitting and listening to a school employee read her a story when two officers came in the room to arrest her.
"What are those for?" the 6-year-old girl asked the police officers as they approached her.
"They're for you," Officer Dennis Turner as another police officer tied the zip ties around her tiny wrists. It was then that Kair Rolle began to cry.
"No ... no, don't put handcuffs on!" she cried. "Help me, help me, please!" but the officers ignored her tears and followed through with the arrest as school staffers looked on.
Following her arrest, Kaia was placed in a police SUV by an officer to be taken to the Juvenile Assessment Center, before boasting that he had arrested 6,000 people in his career — the youngest, to that point, was 7. When school employees told him Kaia was 6, he simply replied, "Now she has broken the record," he said.
The police were called after Kaia, a first-grader at charter school, had a tantrum earlier in the day where she had kicked and punched three school employees. She was arrested on a charge of misdemeanor battery, according to her arrest report. Kaia was calm when the cops turned up.
"I don't wanna go in a police car," she weeps.
The second officer then replied, "You don't want to? ... You have to."
"Please, give me a second chance," she begged, but she was placed in the back of the SUV.
According to the Orlando Sentinel, Orlando Police Department officials have said Turner violated agency policy on arresting children younger than 12. However, his decision was not illegal, as Florida currently does not have a minimum age for arrest.
Kaia was completely processed at the county Juvenile Assessment Center, where the girl's mugshot and fingerprints were taken. Kaia has since re-enrolled in a private school.
Turner has a troubling criminal history. He was disciplined seven times for violations of department policy that ranged from unsafe driving to a child-abuse arrest in which he was accused of injuring his 7-year-old son. He was also accused of sending threatening text messages to his ex-wife in 2009 and racial profiling, records show.