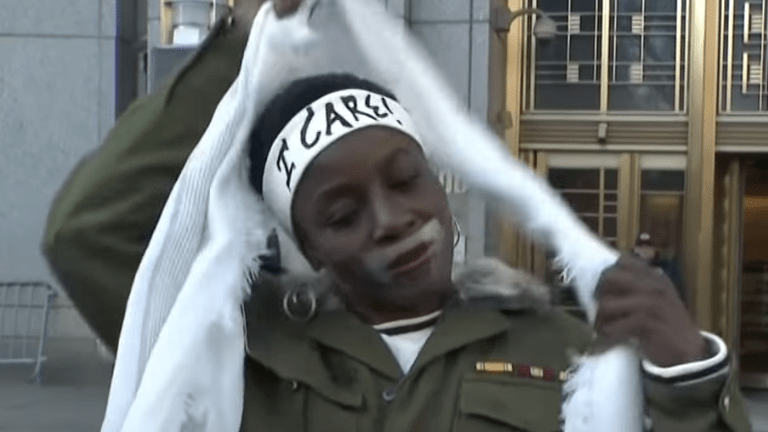 Black woman who climbed Statue of Liberty sentenced to five years probation
A woman who climbed the base of the Statue of Liberty last Jul. 4 in protest of the separation of families at the Mexican border has been sentenced to five years probation.
U.S. Magistrate Judge Gabriel W. Gorenstein did not give Therese Okoumou any time behind bars for her conviction on multiple misdemeanor counts as many Republicans wanted but instead ordered her to perform 200 hours of community service and five years of probation. Okoumou was facing up to 18 months in prison.
She appeared in court with clear tape wrapped around her face, a metaphor, her friend told the New York Daily News, for the suppression of free speech. The judge made her remove the tape before handing down the sentence. She was allowed to keep on a headband with the words "I care" written across it.
"I do not need probation, and I do not belong in prison. I am not a criminal," Okoumou told the judge, Gabriel Gorenstein per the Guardian.
Okoumou had told the newspaper last year that she had been kept awake by the news that children were being separated from their parents at the southern border.
"I had thought, 'It's the Statue of Liberty, it's the Fourth of July and there are children in cages, we are doing a protest but I want to send an even stronger message and this is the perfect day for it.' All of those elements together were necessary to give me the courage," she said at the time.