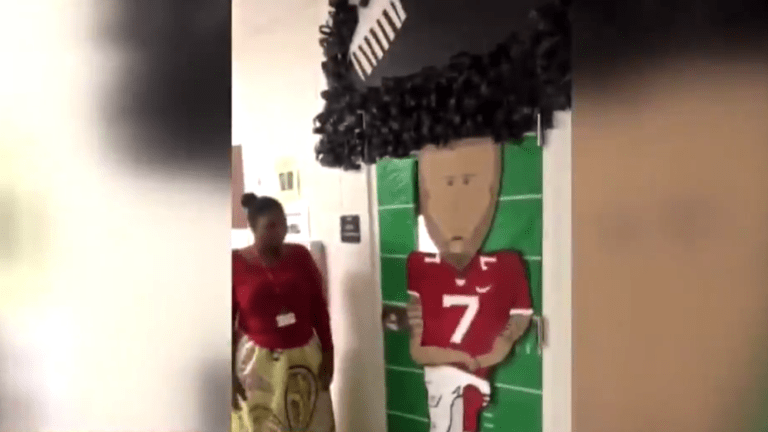 Black teacher forced to remove Colin Kaepernick decoration
A teacher from Florida has been forced to take on her classroom decoration of Colin Kaepernick after images of the artwork went viral.
The teacher works at Port Charlotte High School and placed the decoration in the classroom as part of Black History Month, but some students took a picture of the piece and shared it on social media, calling it "offensive."
"Thank you all for participating in this," Math teacher said Alissa Perry said in a video posted to Twitter.
"I'm going to go ahead and remove this, OK."
The Charlotte County School District stated that they were receiving too many calls and complaints over the BHM display.
"We were getting parents complaining and everybody, and we just thought we have to put an end to this," said Mike Riley, Charlotte County School District spokesperson. "It was a lose, lose situation for us."
"Our schools are a microcosmic of our society," Riley continued. "If we left it up, it would have been the same thing from one side, and if we took it down, it would be another."
Kaepernick recently settled with the NFL after he sued them for collusion following his uofficial blackballing from the league after he took a knee during the national anthem in protest of police brutality an social injustice.
The district may claim that they would have had issues whether or not they took the decoration down, if they had left it up for the remainder of BHM, they could have sent an even more powerful message.