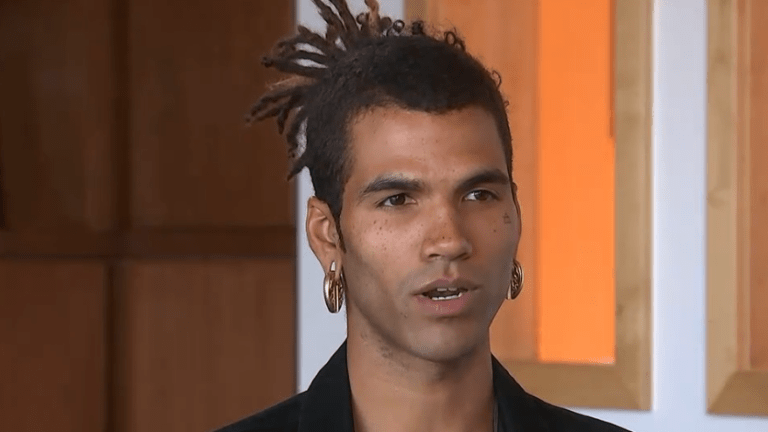 Black man who was held at gunpoint by white officers while picking up trash speaks out
A Black man who had guns pointed at him while he was cleaning his front yard has spoken out about the traumatic incident.
Zayn Atkinson, 26, says that he hasn't slept well since the incident took place last month. The video footage, captured by Atkins' neighbor immediately went viral.
"I thought that once the firearm was out that that meant that he was going to try to kill me," Atkinson told "Good Morning America" in an interview airing Friday. "It was a frightening experience. I didn't know what else to do besides, you know, to fight with my voice and to practice my rights, which were thoroughly being breached."
Atkinson was holding a bucket and a metal trash picker in front in his front yard Mar. 1. Atkinson, who lives in a predominantly white area, was asked to identify himself as police swarmed him and pointed guns.
He said he gave the officer his ID and key card for the building.
"I had not done anything illegal therefore there was no reason for me to comply," Atkinson told 'Good Morning America. "I continued to go back to work and pick up trash and clean up my grounds."
Atkinson also told GMA that he believes that the event was racially motivated:
"I believe that this man had approached me because I'm a Black male in an all white town. … I thoroughly believe I was profiled," Atkinson said. "Not only that you know I'm a Black man, I have dreads. At the time I had a beard and I was wearing raggedy clothes."
He continued:
"I was suffering with a lot of anxiety, a lot of depression. I was having very strange dreams and couldn't really sleep," Atkinson said.
The Boulder Police Department said it has placed the first officer on administrative leave while they continue to investigate the incident.
Atkinson's attorney, Siddhartha Rathod, said the officer's punishment is not enough.
"The officer's on a paid vacation right now; he's on a taxpayer paid vacation and he's at home being paid now for pointing a gun at a black man," Rathod told "GMA." "He's at home being paid for racially profiling Zayd for illegally stopping him and for threatening his life."