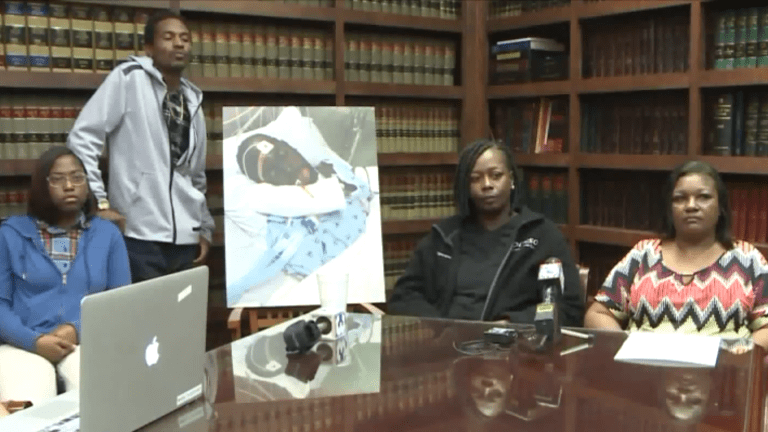 Black Man Left in Coma after Police Crush his Windpipe; Family Files Lawsuit
In Arkansas, a mother has filed a lawsuit against the City of Blytheville alleging that her son, who is currently in a coma, after officers crushed his windpipe during a Sept. 29. arrest.
Filed earlier this week, the lawsuit claims 30-year-old Rayshawn Warren remains in a permanent vegetative state resulting from injuries sustained during his arrest.
"I feel like this shouldn't have happened. It shouldn't have came this far. It really shouldn't," Warren's sister, Rayonna Anderson told WREG.
"He ain't gonna walk, he ain't gonna talk. His voice gotta come through us," said Warren's aunt Otilla Golden.
Police were called to the area after it was reported to them that Warren had knocked at multiple homes in the middle of the night. It was alleged that he tried to force his way into the home of one of the residents.
Warren's neighbor, Tonia Daniel, said she believes Warren had meant to come to her house. "He would come here to rest and he would knock on the door. He knocked on the wrong door, unfortunately," Daniel said.
Police claim that Warren ran away from them. When they caught him they attempted to use an armbar to restrain him while drive stuns were used on him.
He was charged with public intoxication, fleeing on foot and failure to submit to arrest. The Blytheville police claim that Warren was conscious and combative with medics when they arrived at the scene in response to the filing. They are also alleging that Warren has amphetamines and THC in his system the night of the arrest, and even went into cardiac arrest but deny crushing his windpipe.
"What did they really do to him? I don't know what they really did to him," said Warren's mother Tawona Warren.
Despite WREG requesting more than two hours of police body camera footage from Blytheville police, they returned only "portions of two videos amounting to a little more than one minute." According to WREG, one of the videos shows police talking to the woman who had complained Warren was trying to barge into her home, while the other shows an officer chasing Warren, then making contact with him before Warren runs off again but not of his actual arrest.
Here is the police department account of the incident, as published in the Blytheville Courier.
"Police arrested Rayshawn Warren on resisting arrest, public intoxication and fleeing on foot in the 900 block of Hearn. "I made contact with the resident of 910 Hearn who stated that a black male in a blue shirt knocked on the door and was talking to her husband," Officer Driskill wrote in his report. "The resident continued to state that the male tried to push his way into the house pass her husband. The resident also stated that he was acting strange and she believed him to be on something. While on scene, dispatch received several calls concerning a male matching the same description knocking on other doors on Walnut street. I made contact with a caller on Walnut street who stated that the male kept knocking and was asking for help. The caller then directed me to 8th street where he was last seen. I was notified that dispatch received another call of a male screaming for help behind the Baptist Church. I made contact with a black male in a blue shirt, later identified as Rayshawn Warren, who was walking up to a house on the southeast corner of Main and 7th. I attempted to talk to Warren and told him to come to me. Warren continued to walk away and yelled, "No!" Warren was told to come to me again, which he responded with anther, "No!" and he began to run east on Main Street." Officer Driskill caught up to him at Cobb Funeral Home, attempting to use an arm bar. "The move was ineffective and Warren ran across the street where I again caught up to him and tackled Warren to the ground were I was able to restrain him until other officers arrived," the report said. "When Officer Krupin and Officer Berumen arrived Warren continued to resist attempts to handcuff him. After handcuffs were applied Warren continued to resist and began to kick at officers. During the altercation I had injured my left ankle and sustained a busted upper lip. Pafford was notified for both Warren and myself. After Pafford arrived, I retrieved my vehicle and returned were Warren continued to resist medical assistance. While en route to Pafford base were they would wrap my ankle, Officer Krupin announced on the radio that Pafford needed to return. Once back on scene, I observed Officer Krupin giving chest compressions to Warren. Warren was transported to the Great River Medical Center where he was later transferred to St. Bernard's Hospital in Jonesboro."
The lawsuit claims an officer used excessive force against Warren and that the officer has a history of excessive force. 
"That's how I feel right now like they tried to take my son away from me," Tawona Warren said.
The lawsuit did not specify how much the family is seeking in damages, but Tawona Warren told WREG she would like to see the officer responsible face criminal charges. Warren's medical bills are currently in excess of $250,000.