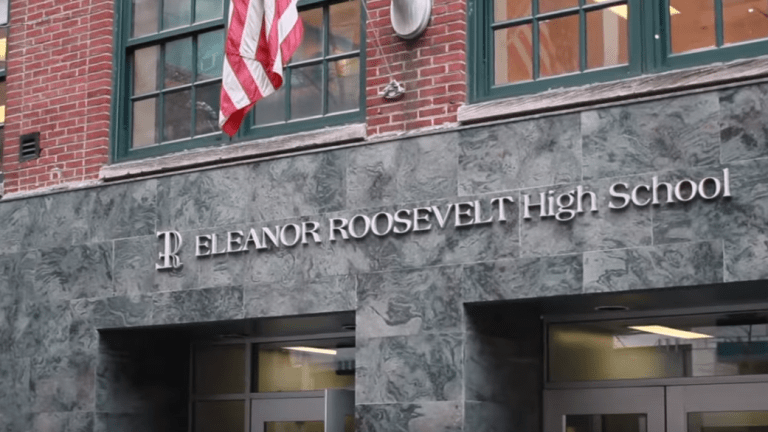 Black girl given an 'n-word' tampon at a prestigious Manhattan high school
A prestigious Manhattan school has come under fire after a Black girl, who is the only Black student in her grade, was reportedly handed a tampon with the 'n-word' written on it.
A meeting of both administrators and families of the students who attend Eleanor Roosevelt High School has been called.
According to the Daily News, two Eleanor Roosevelt co-eds, one white, the other Middle Eastern, handed an African-American ninth-grade girl a tampon bearing phrase "n*ggers don't have rights" scrawled on it.
She then handed it back to the students and reported it to Eleanor Roosevelt staffers, leading to the suspension of both aggressors.
Veda Faust, 16, a junior at Eleanor Roosevelt High School, spoke out about micro-aggressions they say often go unchecked at their school.
"I felt really infuriated; not really surprised," said Faust. "The place where you have to be for the next four years is somewhere where you feel like you don't belong. Where people don't want you there and you're not welcome."
"I think that El-Ro really preaches this whole diverse and this whole accepting environment, where it's actually really hard to create that when you have an almost entirely white school body," said another student, who asked to remain anonymous because school officials instructed her not to speak with the media.
"When things like this happen it's hard," the student added. "It makes it seems like the school is lying."
Eleanor Roosevelt is just the latest high-profile city school to be drawn into a larger debate over on-campus racism and segregation.
City Education Department spokeswoman Miranda Barbot said Eleanor Roosevelt officials investigated the incident and appropriate disciplinary action will be taken for the students involved.
"Principal Saliani sent a school-wide letter and met with families to reaffirm the importance of a safe and supportive school environment," Barbot said. "We are continuing to provide support to the school community."