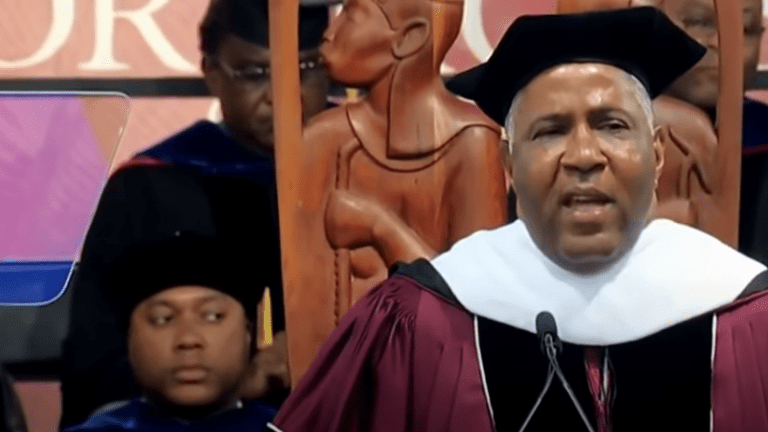 Billionaire Robert F. Smith vows to pay grads' loan debts during commencement speech
Billionaire investor Robert F. Smith announced during his commencement speech that he would pay off the student loan debt for the 2019 graduating class.
"On behalf of the eight generations of my family who have been in this country, we're going to put a little fuel in your bus," he told the graduates during the speech.
"Now, I know my class will make sure they pay this forward," he continued. "I want my class to look at these (alumni) - these beautiful Morehouse brothers - and let's make sure every class has the same opportunity going forward because we are enough to take care of our own community. We are enough to ensure we have all the opportunities of the American dream."
The 56-year-old's gift is said to total around $40 million.
According to Forbes, the nation's total debt accrued by students currently stands somewhere around $1.5 trillion, and borrowers in the class of 2017 on average owed more than $28,000, according to the Institute for College Access and Success. 
Smith has a fortune estimated to be worth $5 billion by founding Vista Equity Partners, a private equity firm that focuses on buying and selling software firms per Forbes.
He studied chemical engineering at Cornell before taking a job at Kraft General Foods. He then earned a master's degree in business administration from Columbia, before landing a position at Goldman Sachs in San Francisco, advising companies including Apple, Hewlett-Packard, and Microsoft. In 2016 Smith was named chairman of the board of Carnegie Hall,
Great news for the prestigious HBCU.