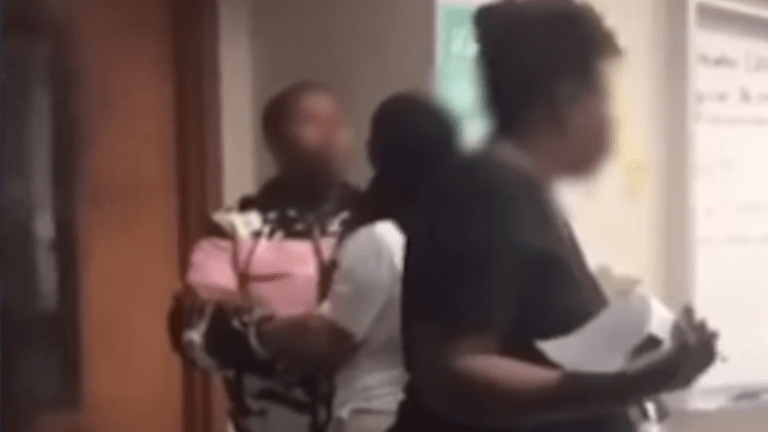 Baltimore Student Caught on Camera Punching Teacher in the Face
A video of a female teacher getting punched in the face has gone viral.
The incident, which took place at Baltimore's Frederick Douglass High School, depicts shows and an angry student intentionally punching a high school teacher in the face after reportedly fighting with another pupil went viral this week.
The video has been going viral on social media platform, Instagram, shows the impudent student screaming, "F*** is you talking about? Dont f***ing get smart with me, straight up."
"I didn't get smart with you," the teacher says as she holds her face and follows the pupil out of the classroom.
Edie House Foster, with Baltimore City Public Schools, released a statement to WJZ13.
"School administrators at Frederick Douglass High School continue to investigate a physical altercation that took place today when a teacher was struck by a student following a verbal exchange.
"Ensuring a safe teaching and learning environment for our students and staff is paramount to City Schools. Upon reviewing the incident, administrators will apply disciplinary action in accordance with Baltimore City Public Schools' Code of Conduct."
A parent of a child at the school, Icsha Flowers, told CBS Baltimore: "That's a mess, that right there, that's just not cool. These kids today are out of control. See mine right there? Wouldn't have never happened."
The number of incidents such of these being uploaded to the internet are increasing by the day. The teacher seemed almost apologetic to the teacher but it is important that student's know that violence against teachers is completely unacceptable.
The incident is still under investigation. We do not know if any criminal charges will be placed.