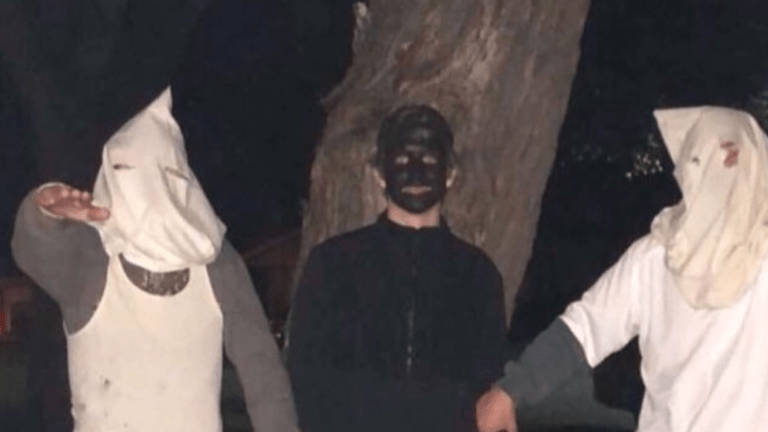 Army Bans Teens who Wore Blackface and KKK Hoods for Halloween
And the Blackface images keep on coming...
An Army recruiting station has placed a ban on three teens who attended a Halloween party wearing Blackface and KKK hoods.
The incident is currently being investigated by Rochester Public Schools after the racist image began circulating on social media. The incident allegedly involved students from John Marshall High School in Minnesota.
The now viral photo displays two young, white males dressed up as members of the Ku Klux Klan doing a Nazi-like salute as their other hands are holding onto a third white male whose face is smeared with black paint.
According to The Med City Beat, the images have been met with "widespread condemnation." A letter was sent out to families at the school, the district stating that it will respond in the "appropriate manner." .
"We are unable to provide further comment on this situation due to state and federal data privacy laws that protect student information," a district spokesperson said Thursday morning. "However, it is important for our community to know that RPS strives to create a welcoming environment for students of all backgrounds and is committed to providing a learning environment that is free from discrimination."
The district also said it has brought on additional staff at John Marshall today to help support students who may be affected by the situation.
"The social media post is not a reflection of what our district students and staff believes and feels," the district said in the statement, which was also sent out to local media. "We will use this as an opportunity to talk, educate, and grow as a community as we work to become even stronger and more inclusive to all students."
The Army recruiting station in Rochester also released a statement Thursday saying the individuals allegedly involved will no longer be allowed to enlist. 
"Because the questionable conduct of these three individuals is inconsistent with Army values, they will no longer continue the process to become U.S. Soldiers," said Marlene Bland of the 3rd Recruiting Brigade. "The Army does not tolerate inappropriate behavior by anyone within our ranks, [including] recruits who have signed a contract to join in the future. It is important for everyone on our team to live and demonstrate the Army values every day."
The incident has sparked so much outage within the community, that local community organizations felt compelled to release a joint statement, condemning the image.
"We assert that we cannot continue to be "shocked and saddened" by these types of incidents without recourse. There is no room in our community or in our shared future for racism, hatred, discrimination, or belligerent ignorance. We will act.
There is space now for each of us to step up and interrupt those things happening around us that perpetuate these divisive attitudes and behaviors. To truly make our community a safe and welcoming place for everyone, we all have a responsibility to recognize and interrupt the words, actions, and attitudes around us that perpetuate white supremacy. We pledge to take ownership of the intolerances that keep us as a community from reaching our fullest, most inclusive potential. We will find allies and supports when we need them. We will lift, together, now.
The statement was signed by S.E. Social Justice Coalition, the Diversity Council, Rochester for Justice, CIDI, NAACP, UU Racial Justice Task Group, CURE, Southeast Minnesota Area Labor Council, AFL-CIO, Olmsted County Human Rights Commission, and Sierra Club North Star Chapter."
The investigation continues.