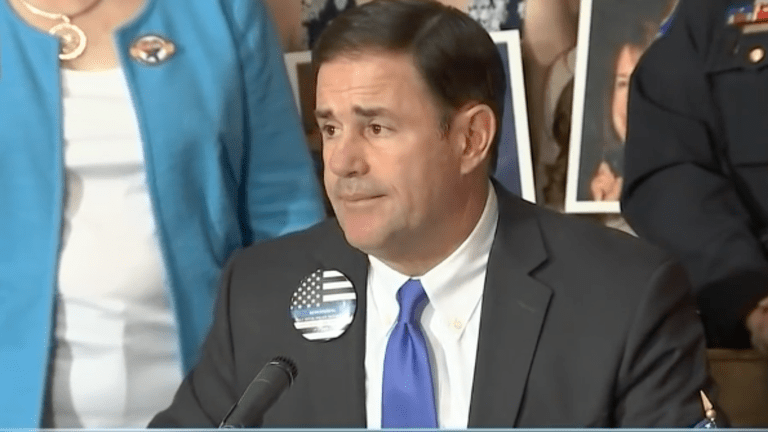 Arizona GOP Retaliates Against Nike for Withdrawing Betsy Ross Shoe Design
Earlier today news broke that Nike will no longer produce a Betsy Ross designed American flag due to Colin Kaepernick's intervening. Now Arizona has decided to withdraw funding for the company that was setting up a plant in the state.
ICYMI: Nike was set to release a special July 4th sneaker in honor of Independence Day. The brand rescinded on the idea after athlete-turned-activist and Nike spokesman Colin Kaepernick intervened.
The shoe's heel originally featured an American flag designed by Betsy Ross, with 13 white stars to represent the 13 colonies. According to reports, Kaepernick expressed concerns that Ross' flag promoted our country's racist past of slavery and segregation.
After Nike officially cancelled the holiday-themed Air Max 1, Arizona's GOP took to Twitter to state his opposition against their decision.
In a thread, Doug Ducey expressed his "disappointment" and "embarrassment" for the brand that: "bowed to the current onslaught of political correctness and historical revisionism."
To prove his dissatisfaction, Ducey ordered the Arizona Commerce Authority to rescind the financial incentives it offered Nike for its plans to build a new shoe plant there. 
According to AJPlus, the plant was supposed to employ over 500 people. Now 500 people are without jobs.