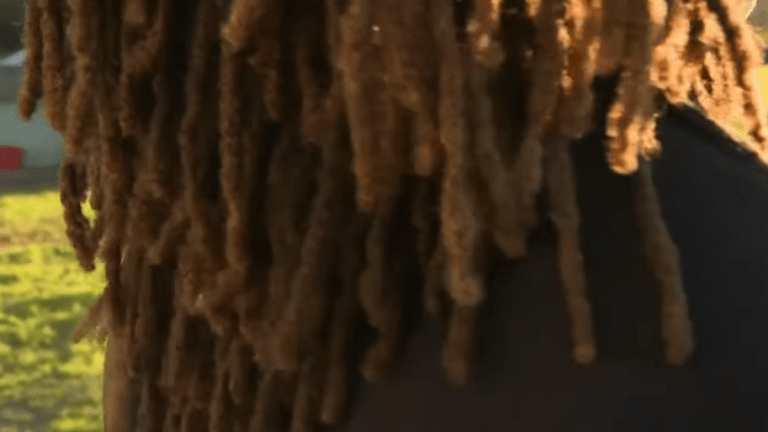 Another Black teen suspended for refusing to cut his dreadlocks
A Texas high school student is at the center of a media firestorm as he is the second student in less than a month to face disciplinary action by his school for refusing to cut his dreadlocks.
Deandre Arnold, a student at Barbers Hill High School, a public school in Mont Belvieu, Texas, made headlines after the school told his mother that Deandre's hair has to be in dress code and "the only way it could be in dress code, I would have to cut it," she said -- the issue being the length of the dreadlocks.
He refused to cut his hair and was subsequently suspended, with threats to prevent him from walking during his graduation.
Deandre's cousin, 16-year-old Kaden Bradford, has also been told he cannot return to school unless he cuts his dreadlocks as well, his mother, Cindy Bradford, told ABC News.
"My son is having the same issue (as Deandre)," Bradford said. "He's a sophomore, he's been growing his dreads out since sixth grade."
According to Bradford, shortly after Christmas break, the school's principal, Rick Kana, told her that "the only way Kaden can come back to school is if he cuts his hair."
"He had [dreads] last year," she said. "He took a headband and pushed them off his shoulders. [The school] said if he kept them up like that, it was no problem."
Bradford then took her son to have his locks braided in a style up and away from his shoulders, but school officials are not budging and are insisting that he cut his hair.
"We allow dreadlocks and extensions," the school's superintendent, Greg Poole, told ABC News. "We have a dress code on hair length that is uniformly applied to all students of all races. We have a legal right to that expectation."
"The policy is not about cornrows or ethnicity," Poole said. "There is no injustice being done."