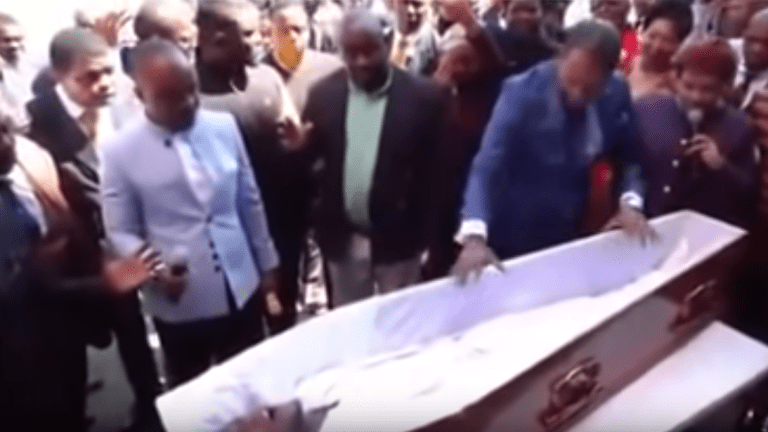 African pastor sued for resurrection scam
A South African pastor is the subject of a lawsuit after his resurrection act went viral.
Alph Lukau made headlines after he managed to convince his congregation that he had successfully brought a man back from the dead. In the video, the pastor stands over a "dead" man's casket before ordering the man to "rise up!" - And he does. The congregation was in awe as the "dead" man sits up in the coffin and they cheer for their spiritual leader.
"Can you see what happened? This man died since Friday, he was in the mortuary," Lukau told the crowd. "This is a sign that no matter what the devil's done it is over. Devil, I told you wherever I find you I will kick you."
Watch the clip below.
The incident took place outside Lukau's church, Alleluia Ministries, which is located in Johannesburg.
According to the BBC, Kingdom Blue, Kings & Queens Funeral Services, and Black Phoenix are now suing Lukau for allegedly staging the act and tricking them into being involved. Lukau reportedly obtained the coffin from Kingdom Blue, put Black Phoenix stickers on a private car so that the stunt could "look credible to Kings & Queens Funeral Services" when they arrived to order a hearse. 
An advocate for the funeral homes said:
"It is with regret that the outcome of such a plot has adversely affected our reputation as service providers.
"We have reported the matter at Jeppe police station for further investigation," Prince Mafu said.