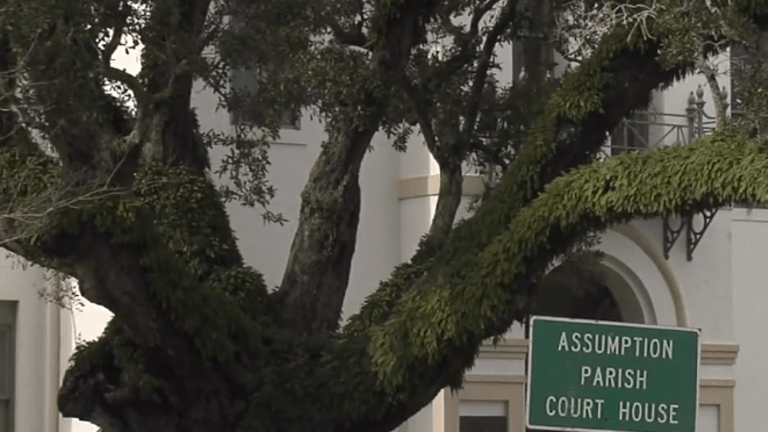 8 years of cases in Louisiana could be questioned as racist messages sent from judge's phone discovered
Assumption Parish Sheriff Leland Falcon has announced that racist text messages sent to his former Chief Deputy came from a phone belonging to the 23rd Judicial District Judge Jessie Leblanc. 
In the messages, LeBlanc regularly uses racial slurs when referring to African-American deputies and an African-American law clerk in Ascension Parish. 
According to a report from WBRZ, Falcon said former Chief Deputy Bruce Prejean received the messages in December of 2018 WHERE Assumption Deputy Erick Taylor was referred to as a "dirty cop, thug, and a [expletive]." 
It is assumed that the expletive is in reference to the n-word, in which the publication states that it made an editorial decision not to publish the word.
The text messages also refer to Judge Alvin Turner's law clerk, Brianne Sterling, as a [expletive]." 
Following the discovery of the messages, District Attorney Ricky Babin said letters will now be going out to every single defendant who had ever appeared before Leblanc beginning in 2012, when she was first sworn in, until now. 
"It's a daunting task," Babin said about having to send out letters to defendants. "We are still going through all the other cases in Assumption Parish."
The messages Falcon says Prejean received in December 2018
LEBLANC'S PHONE: Goodbye
LEBLANC'S PHONE: And you don't have to pretend we are friends in front of other people. I've also learned not to be fake.
LEBLANC'S PHONE: So if someone has a question refer them to me.
LEBLANC'S PHONE: And if you feel the need to share my text messages-please share them all so they get the FULL story.
LEBLANC'S PHONE: I'm sure you are with thug ni**** Erick. He is such a good friend.
LEBLANC'S PHONE: I can't wait till the day he is called out for what he is. Dirty cop. Thug. Ni****.
LEBLANC'S PHONE: I guess this time ends with sour grapes too and an inability to talk. It's ok. I'll be just fine.
PREJEAN: I see how you feel. I'm still your friend.
LEBLANC'S PHONE: Friends don't call friends liars.
LEBLANC'S PHONE: I suppose we have different definitions of what a friend is.
LEBLANC'S PHONE: If Brianne makes you happy- good for you. I just feel sorry for your kids and grandkids.
LEBLANC'S PHONE: What an embarrassment
PREJEAN: I'm not seeing Brianne
LEBLANC'S PHONE: At least I was NEVER unfaithful to you with ANYONE- much less a ni****
Leblanc's attorney Jill Craft sent an email to the news outlet, denying the allegations:
"As I communicated to you by text messages, the two (2) pages you texted me are obviously altered. As I stated in my text response to you this morning, you can look at the two pages and readily see they have been altered and/or are fake. You have not seen the alleged actual phone from which the photograph of the photograph was supposedly taken, nor have you spoken to the alleged, actual recipient or verified the documents. For her part, my client adamantly denies the altered documents," the email reads in part.
"I have looked at the alleged text messages and they appear to have been altered. For example, if you look at both, one has screen cracks present in the lower left corner not present in the other. The type font with the alleged phone number matches exactly but the text boxes in both do not, meaning someone has deliberately manipulated the content. The alleged messages appear fake."