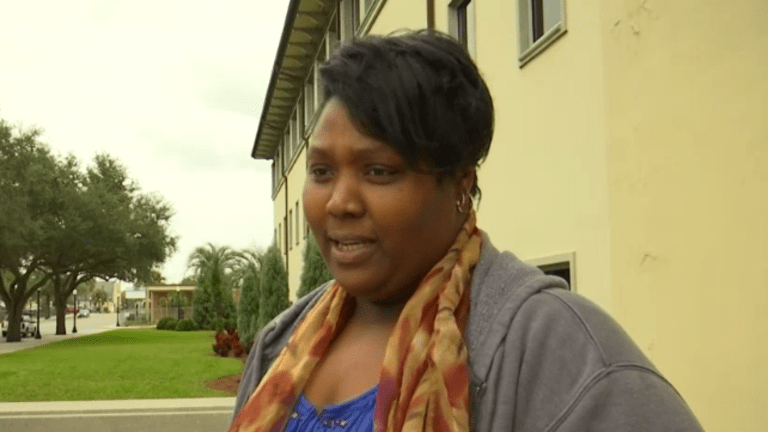 11-year-old arrested for refusing to stand for Pledge of Allegiance
An 11-year-old has been arrested after refusing to stand for the Pledge of Allegiance during class.
The Polk County student, who attends the Lawton Chiles Middle Academy, refused to stand for the Pledge of Allegiance, before being kicked out of the classroom. He reportedly called substitute teacher who was covering the class a "racist" and that the flag was offensive to Black people.
He was later arrested for being disruptive and disobeying commands and taken to a local juvenile facility, Bay 9 News reports.
His mother, Dhakira Talbot is demanding that county drop the charges against her son: 
"I'm upset, I'm angry. I'm hurt," she said. "More so for my son. My son has never been through anything like this. I feel like this should've been handled differently. If any disciplinary action should've been taken, it should've been with the school. He shouldn't have been arrested." 
In a statement to the district, the substitute teacher told the student:
 "Why if it was so bad here he did not go to another place to live." 
The student then responded, "they brought me here."
The teacher then said:
 "Well you can always go back, because I came here from Cuba and the day I feel I'm not welcome here anymore I would find another place to live."
She wrote, "Then I had to call the office because I did not want to continue dealing with him."
But Talbot did not agree with the teacher's handling of the situation:
"She was wrong. She was way out of place," Talbot said. "If she felt like there was an issue with my son not standing for the flag, she should've resolved that in a way different manner than she did," Talbot said. 
Talbot continued:
"I want the charges dropped and I want the school to be held accountable for what happened because it shouldn't have been handled the way it was handled," Talbot said.  
A spokeswoman with the school district said students aren't required to participate in the Pledge of Allegiance, but the substitute teacher wasn't aware of this. The substitute teacher will no longer be able to work at any of the district's schools and the district is still investigating the matter.
The result is a far cry from the 10-year-old white student who refused to stand for the Pledge of Allegiance at a recent council meeting. The white student was not arrested or taken to a juvenile facility.