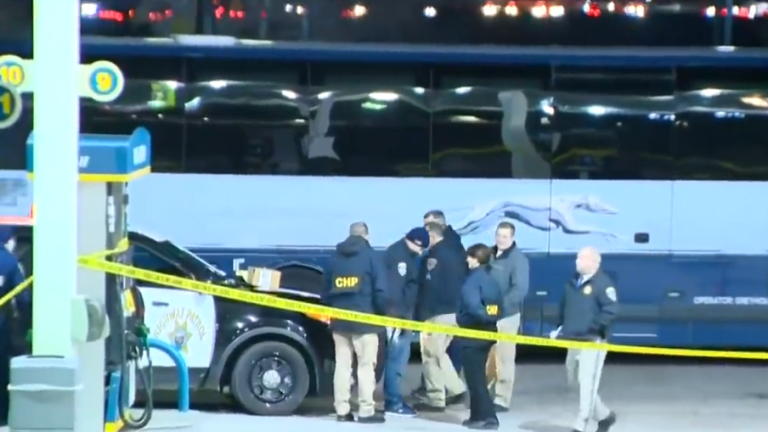 1 killed, 5 injured in deadly shooting on Greyhound bus
One civilian has been killed and five more injured in a shooting on a Greyhound bus in Southern California early Monday morning, officials said.
All five of the victims were adults. The injured victims who had reportedly been trying to tackle the gunmen were rushed to hospital after being shot. Two of them are in critical condition, according to California Highway Patrol spokesman Brian Pennings.
The slain victim has been identified as a 51-year-old woman.
According to ABC News, forty-two passengers were on the bus, which was en route from Los Angeles to the San Francisco area. Pennings adds that although two children, ages 6 and 8, were on board, they were not hurt.
The suspected gunman was identified as Anthony Devonte William, 33, of Capitol Heights, Maryland. William was booked at the Kern County jail Monday evening on suspicion of murder and attempted murder and was held without bail, The Associated Press reported.
The police say that it was the bus driver who "was able to persuade the shooter" and that he "voluntarily" exited the vehicle. He left the black handgun used in the attack on the bus. Officers located him on the shoulder and took him into custody without incident.
They praised the bus driver, saying that he "handled the situation professionally and appropriately to minimize any more possible victims," Pennings said. "I've been on 25 years; I've never seen this happen," he said. 
The Bureau of Alcohol, Tobacco, Firearms, and Explosives and Kern County Sheriff's Office were assisting the California Highway Patrol with the investigation.