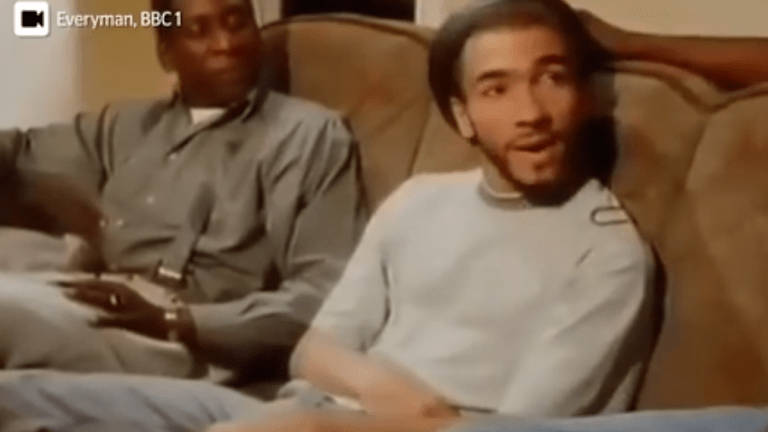 White 'Born-Again African' Lands Job Intended for People of Color
The New Dolezal?
A white theater director who described himself as 'African born again' has secured a position created specifically for a person of color.
Anthony Ekundayo Lennon is quickly earning himself the title of the 'male Dolezal' is among four people who won a paid traineeship as a "theatre practitioner of colour" funded by from Arts Council England to "deliver a comprehensive programme of talent development for future Bame leaders" in the UK.
On his application, Lennon described himself as 'mixed heritage,' which is not true. Lennon is white. Both his parents are white, but he has been able to pass himself off as biracial due to his curly hair and strong facial features. His transracial ideals are not new. Back in the 90's, he appeared on the BBC series, Everyman. The synopsis of the episode reads as followed:
"Anthony Lennon was born in Kilburn, west London. His parents both come from Ireland and are both indisputably white. Yet Anthony now earns his living as a black actor, because ever since he was a child he has looked black. When his friends, who are mostly black, find out about his background, fierce debates invariably follow; about whether Anthony really can call himself black, and about what black skin means to those who are born black. Chilling Out reproduces just such a set of conversations - funny, challenging, sometimes angry conversations, rarely heard by white people in Britain."
Lennon even went as far as to change his middle name from David to Ekundayo.
The Artistic Director Leadership Programme that awarded the traineeship funding, said: "We received 113 applications ... and 29 were appointed to the ADLP. "Talawa were satisfied Anthony was eligible for the opportunity as a result of a relationship with him over a number years, in which he has identified as a mixed-heritage individual."
The Arts Council also echoed their support of Lennon.
"Talawa raised their wish to support Anthony with us. In responding we took into account the law in relation to race and ethnicity.
"This is a very unusual case and we do not think it undermines the support we provide to black and minority ethnic people within the theatre sector."
While some are supportive, many are concerned about what this means. Not only are Black communities marginalized and denied opportunities because of the color of their skin, now white men choosing to identify as Black can waltz in and take up some of the few opportunities that are made available to us.