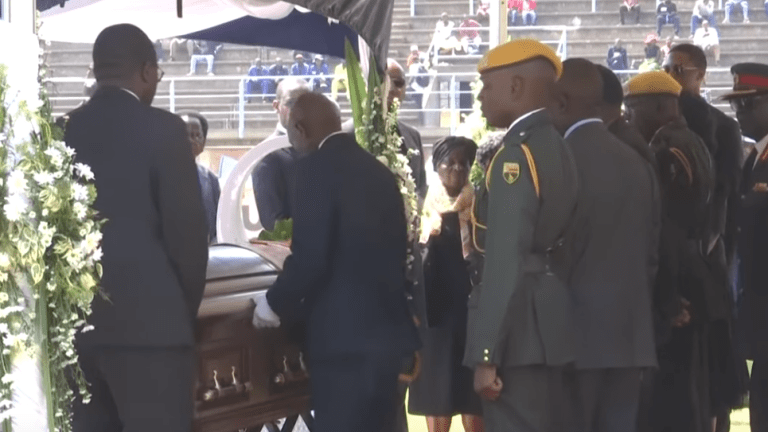 Former Zimbabwean President Robert Mugabe laid to rest
Thousands of people including turned up to say a final farewell to former Zimbabwean President Robert Mugabe in a memorial service on Saturday.
At the service, foreign dignitaries showed up to see the former dictator laid to rest, following his death last week.
"It is with the utmost sadness that I announce the passing on of Zimbabwe's founding father and former President, Cde (Comrade) Robert Mugabe," a post on President Emmerson Mnangagwa's official Twitter account said.
Mnangagwa also spoke at the funeral service:
"A giant tree of Africa has fallen. Indeed the bold steadfast and resolute revolutionary, comrade Robert Gabriel Mugabe is no more, taken away from us, the people he fought hard to free," he said.
During the memorial service, 21 gun salutes were fired and 95 doves released to represent each year of Mugabe's life. There were many empty seats during the event.
Mugabe was ousted in a military coup in 2017 after 37 years in power. Initially revered for leading Zimbabwe to independence in 1980, his later years were marked by the violent repression of his political opponents and Zimbabwe's shocking economic decline.
The economic downturn was further exacerbated when back 2000, he seized land from white owners. In 2008, Mugabe used violent militias to silence his political opponents during an election, even stating that only God could remove him from power.
"He was a colossus on the Zimbabwean stage, and his enduring positive legacy will be his role in ending white minority rule & expanding a quality education to all Zimbabweans," tweeted David Coltart, an opposition senator and rights lawyer.
Newly elected UK Prime Minister Boris Johnson also released a biting statement following the news of his death:
"We, of course, express our condolences to those who mourn, but know that for many he was a barrier to a better future," said a spokeswoman on his behalf.
"Under his rule, the people of Zimbabwe suffered greatly as he impoverished their country and sanctioned the use of violence against them."
Mugabe had been receiving hospital treatment in Singapore since April, Zimbabwe's current leader, Emmerson Mnangagwa said last month.