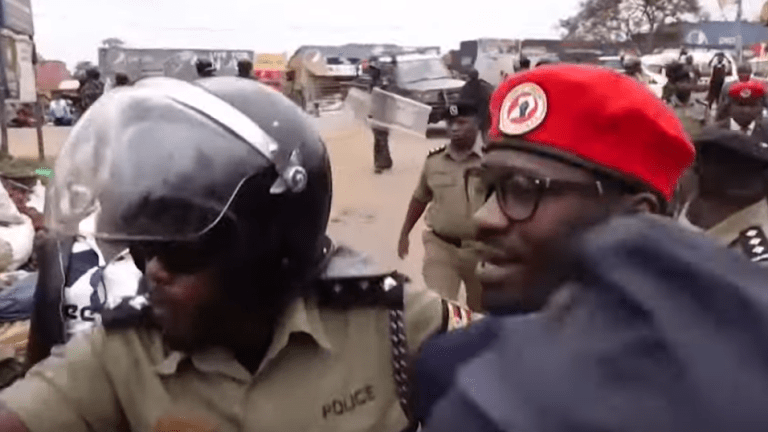 Bobi Wine released from custody following another arrest
Ugandan pop star and political opposition leader Robert Kyagulanyi alias Bobi Wine has been released from video following his arrest days ago.
Police accused Wine of trying to stage an assembly in an open area when he had only been allowed to meet supporters in an enclosed area such as a conference hall.
"This one is not an enclosed place, we cannot even allow them to be here," said police commander Edson Muhangi. "We are reliably informed that their aim is to engage us so that they can be seen exchanging words, fighting with the police and tarnishing the image of Uganda."
"We are not going for the Gulu consultation meeting today. This is because we have to make sure our arrested colleagues are out. Our Lira consultation meeting is on because we have met all the guidelines," said in Kampala, following his release.
In October 2019, Wine escaped arrest on a motorcycle, according to Al Jazeera.
The Inspector-General of Police, Martins Okoth Ochola, had canceled Wine's Independence Day music show, claiming that Wine did not make sufficient preparatory plans for traffic control, medical care, and crowd control.
Wine rose to political fame in 2017 as an independent candidate, winning an election to represent a constituency near Kampala. He has announced that he will run for the presidency in 2021, and formally declared his presidential bid in July at an event in Kampala.
In October, the government outlawed the red berets and other pieces of military wear in a gazette, declaring them "property of the state."
"The dress code for the UPDF (Uganda People's Defence Force) has been gazetted. The action was endorsed by the top organs of the army, which also commended the dress committee for concluding the task assigned to it years back," army spokesman Richard Karemire said at the time.