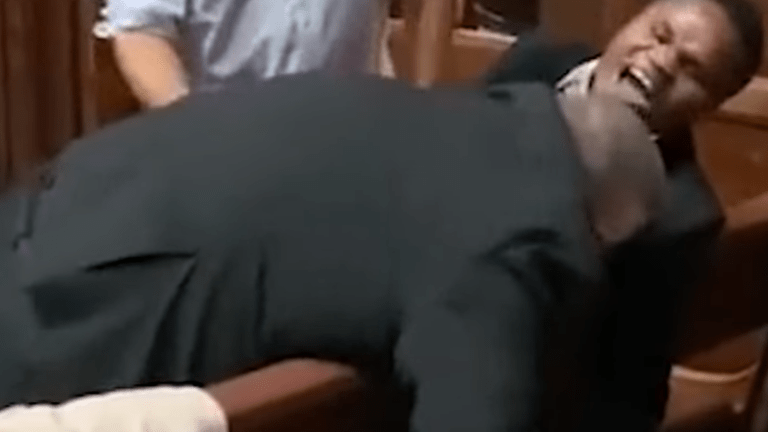 Blind Black student 'dragged from Oxford Union chamber by his ankles'
The Oxford Union is under fire after they reportedly dragged a Black, blind student "by his ankles" out of a debating chamber by security.
The public is now calling for the president of the union to be fired.
Ebenezer Azamati, 25, a postgraduate student from Ghana studying international relations, reportedly arrived early to attend a debate. The topic of the debate was about whether it was right to feel confident in the UK government. Azamati says he arrived early in order to reserve an accessible seat, as he was concerned that there was no special provision for disabled people, before leaving the college to eat his dinner. He then returned to reclaim his seat.
The viral incident was captured on camera and described by the Oxford University Africa Society (OUAS) as "violent, unjust, inhumane and shameful," which left the student feeling "unwelcome in the union, Oxford and even the country," per The Guardian.
Nwamaka Ogbonna, President of the Oxford University Africa Society (OUAS), told CNN, "He is then accosted by the security person who says he can't sit because the place is full and the debate is about to begin."
Following the incident, the Oxford Union has the audacity to file a complaint against Azamati for "violent misconduct." In a hearing last month, he was banned from the Oxford Union until May 2020, according to OUAS.
This claim was dropped after an appeal hearing last week and the Union president, Brendan McGrath, was forced to apologize "unreservedly" for the distress and reputational damage caused to Azamati, according to a statement by OUAS.
Azamati told the Sunday Times: "I felt that I was treated as not being human enough to deserve justice and fair treatment."
A fellow student Henry Hatwell, 21, testified at the hearing on Saturday, giving his account: "Thirty seconds after he [Azamati] sat down, the security guard came in. Five seconds afterwards, he started touching Azamati, who was holding on to the bench. Thirty seconds later, they were dragging him by his ankles."
The OUAS has launched a petition calling for McGrath to resign his position after he "personally lodged a complaint against Mr Azamati for violent behaviour," which had more than 1,000 signatures at 10 pm on Sunday night.